[ezcol_1fifth]
.[/ezcol_1fifth]
[ezcol_3fifth]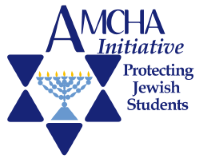 San Francisco State University Update:
Violent SFSU Student Update: Mohammad Hammad No Longer Enrolled or Living on Campus

Dear AMCHA friends and supporters:
Thank you to all of you. Because of your calls to San Francisco State University and multiple inquiries from reporters yesterday, university administrators have stated that Mohammad Hammad is no longer enrolled at SFSU and is no longer living on campus.
In addition, today we spoke with the SF Police Department Office of Special Investigation, and the sergeant informed us that Hammad is being investigated by the Joint Terrorism Task Force and the FBI.
We remain concerned that the terrorist ideology espoused by Hammad is embraced by other members of the student organization he ran, GUPS, and we will continue to closely monitor the investigation and the GUPS group.
Thank you again for everything you did to help ensure the safety of Jewish students at SFSU.
Tammi Rossman-Benjamin and Leila Beckwith
AMCHA Initiative Co-founders
You can see the recent AMCHA bulletin regarding former SFSU student Mohammad Hammad HERE.
[/ezcol_3fifth]
[ezcol_1fifth_end].[/ezcol_1fifth_end]