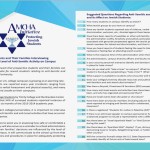 Questionnaire for Prospective Students & Their Families
This questionnaire provides the framework that prospective students and parents of prospective students can use when determining the campus climate for Jewish students relating to anti-Semitic and anti-Israel activity at a particular college/university. The questions are designed as guidelines to assist prospective students and their families in assessing how safe or comfortable a school might be for a Jewish student.
You may access the brochure HERE.