[ezcol_1fifth]
.[/ezcol_1fifth]
[ezcol_3fifth]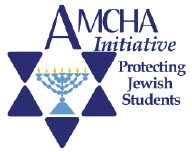 ALARMING SPIKE IN CAMPUS ANTISEMITISM DURING 1ST HALF OF 2016, NEW AMCHA STUDY REVEALS
Shutdowns/suppression of speech nearly doubled;
Expressions calling for Israel's elimination almost tripled;
Divestment resolutions linked to antisemitism surge




[addtoany]
---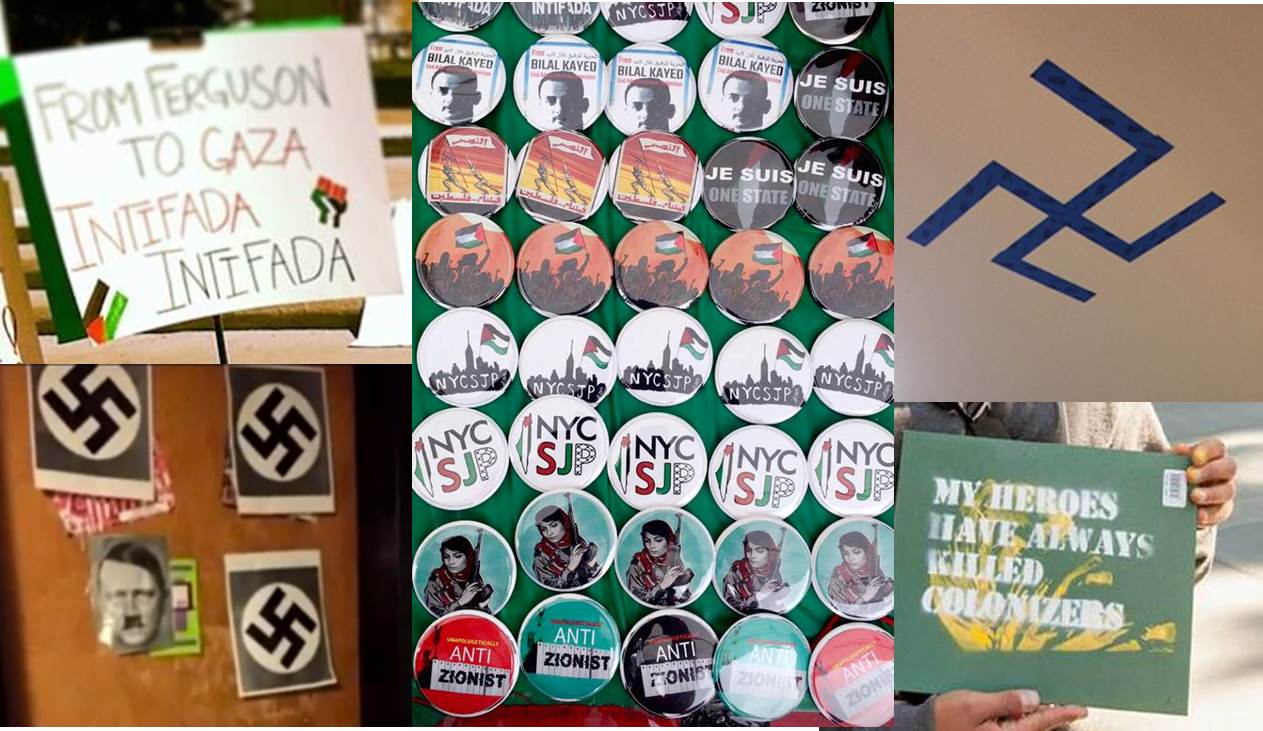 ---

Nearly 100 more incidents of antisemitism occurred on campus during the 1st six months of 2016 compared with the 1st six months of 2015, according to AMCHA Initiative's mid-year study released this week. In addition, calls for Israel's elimination on campus nearly tripled, and that expression highly correlated with actions that harm Jewish students.
AMCHA's study examined antisemitic activity from January – June 2016 on more than 100 public and private colleges and universities with the largest Jewish undergraduate populations and found that 287 antisemitic incidents occurred at 64 schools during that time period, reflecting a 45% increase from the 198 incidents reported in the first six months of 2015.
The study also revealed the following disturbing trends:
Suppression of speech approximately doubled from 2015 to 2016. In 2016, 14 incidents that restricted Jewish students' civil rights by suppressing their speech, blocking their movement or hindering their assembly were found on 12 campuses. These incidents reflect a significant increase from the first half of 2015, in which eight incidents of suppression occurred on seven campuses.
Expression denying Israel's right to exist nearly tripled from 2015 to 2016 and correlated with actions intended to harm Jewish students. The first half of 2016 saw an almost three-fold increase in the number of campus incidents that contained expression opposing the existence of Israel. There were 43 such incidents in 2016 compared to 15 during the first half of 2015. Alarmingly, expression opposing the existence of Israel highly correlated with conduct that targeted Jewish students for harm indicating that this expression breeds the most dangerous and severe antisemitism on campus: behavior aimed at harming Jewish students. This correlation suggests that on many campuses anti-Zionist activists seek to harm not only Israel, but Jewish students as well.
Divestment resolutions are fueling antisemitism. In 2016, the student governments of 10 schools in the study considered anti-Israel divestment resolutions. Of these 10 schools, eight showed the largest increase in antisemitism from 2015 to 2016. Conversely, seven of the nine schools in the 2015 study that considered or voted on divestment resolutions showed a marked decrease in antisemitic activity in the first half of 2016 when no divestment resolution was considered. The two schools that did not decrease in antisemitic activity hosted discussions and votes on divestment.
Anti-Zionism, particularly Boycott, Divestment and Sanctions (BDS) activities, anti-Zionist student groups, and faculty boycotters, remain the strongest predictors of antisemitic incidents on campus. Consistent with 2015, this study revealed that antisemitism was twice as likely to occur on campuses where BDS was present, eight times more likely to occur on campuses with at least one active anti-Zionist student group such as SJP, and six times more likely to occur on campuses with one or more faculty boycotters. In fact, schools with more faculty boycotters and more BDS activity tended to have more incidents of antisemitic activity.
Schools to watch in 2016. Schools with the largest increase from 2015 to 2016 are Columbia University, Vassar College, University of Chicago, NYU, University of Minnesota, University of Massachusetts (Amherst), University of Wisconsin (Madison), University of Florida and the University of Washington.

This comprehensive examination and analysis of incidents in the first half of 2016 affirms anti-Zionism's true antisemitic nature and the antisemitic tactics it uses to execute its strategy. Specifically, it appears that those interested in bringing down Israel as a Jewish state are perpetrating their desires in bolder and more brazen methods. Increasingly, as evidenced by the data, this is not about debate but hate. Instead of just boycotting Israel, the anti-Zionists are now boycotting Jewish students. Anti-Zionists are attempting to harm, alienate, and ostracize Jewish students and Jewish students' civil rights are being trampled. To properly address this rise in anti-Jewish bigotry, universities must adopt a proper definition of contemporary antisemitism and use it to educate the campus community about the distinct line between criticism of Israeli policies and discrimination against Jewish people.
AMCHA's report concluded with recommendations for university administrators including (1) adopting a definition of antisemitism that identifies all forms of anti-Jewish bigotry, including when criticism of Israel crosses the line into antisemitism; (2) allocating resources to educate students and faculty about contemporary forms of antisemitism and anti-Jewish discrimination; and (3) establishing clear guidelines about free speech protected under the First Amendment and conduct which violates others' civil rights, including disrupting or shutting down campus events and restricting free speech and right of assembly.
A full copy of today's report can be viewed here.
---
PLEASE SHARE THE REPORT AND ARTICLES ABOUT IT WITH YOUR FAMILY AND FRIENDS!

News about AMCHA's report:
To see all AMCHA in the News articles, click here.
---
AMCHA Initiative Co-Founder, Tammi Rossman-Benjamin's Latest Op-Ed: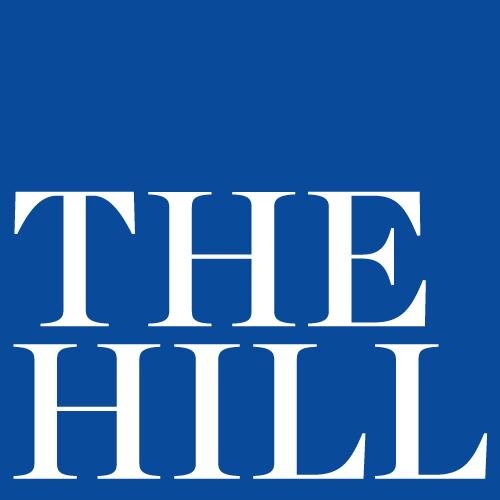 Fighting discrimination and protecting the First Amendment on campus,
not a zero sum game
By Tammi Rossman-Benjamin
July 11, 2016
Combating discrimination means clamping down on free speech. Upholding the First Amendment means anything goes on campus. Encouraging civil discourse and condemning when debate becomes hate is bubble-wrapping students.
With college and high school commencement time upon us, stories emerge daily that student safety measures come at the expense of free speech and critical thinking. Preventing discrimination and protecting the First Amendment, however, should never be at odds. They are not competing issues. Both are paramount responsibilities of a university. Schools must do both and they can.
A few years ago, UC students, parents, faculty and community members began sharing troubling accounts. Jewish property was vandalized with swastikas after students spoke in favor of Israel, Jewish students on multiple campuses were questioned about their eligibility to hold office and vote on Israel-boycott measures simply because of their religion, and Israel and Jews were blamed for 9/11. "Hitler did nothing wrong," "Zionists to the gas chamber" and "grout out the Jews" were found on multiple California campuses in the wake of heated anti-Zionist BDS campaigns.
As a university instructor by trade, free speech is something I hold dear. Discourse and disagreement on the Middle East or the Israeli-Palestinian conflict is appropriate. Debate on these issues and others, particularly those that hit a nerve, belong on a college campus. In fact, there's no better place for such discussions. Protecting free speech is paramount. However, as the director of a non-profit that monitors and combats campus anti-Semitism, I know protecting safety, fairness and equal access to education is too.
From what we were hearing, debate was veering into hate. A serious erosion of civil discourse was taking place. Lines were being blurred. We were wading into dangerous and threatening waters. Bias, harassment, threats, assaults and vandalism against Jewish students, and suppression of their freedom of speech were becoming commonplace. And this wasn't happening in a vacuum. It was in the context of an increase in heated anti-Zionist activity. My organization led a coalition of concerned students, professors, parents, rabbis, school principals and many non-profit advocacy groups and we brought this information to the University of California's Board of Regents. And board members acted.
---
Interested in knowing about recent antisemitic activity on campus?
See our:
2016 Antisemitism Tracker
In the first half of 2016, AMCHA documented hundreds of antisemitic incidents. Here are just a few examples since our last bulletin:

June 28, 2016 – UC BERKELEY –
UC Berkeley's Center for Race & Gender offered students the opportunity to attend a "Palestine De-Colonial Summer School" trip to Turkey, which, according to an SJP post about the summer school, will be focused on delegitimizing Israel with accusations of settler-colonialism, looking at Zionism as a "colonial, racial and Euro-centric Project," emphasizing "de-centering Zionism and Eurocentric knowledge production" and exploring "Palestinian resistance to colonization."
(ANTISEMITIC EXPRESSION: DELEGITIMIZATION)
June 6, 2016 – PORTLAND STATE UNIVERSITY –
The Associated Students of Portland State University discussed and then tabled a divestment resolution until the fall term with a vote of 21-0-2.
(BDS ACTIVITY: BDS VOTE)
May 31, 2016 – UNIVERSITY OF WASHINGTON –
Burned pages from a book by a famous nineteenth-century German Jewish poet Heinrich Heine, who wrote in his 1820-1821 play Almansor the famous line, "Where they burn books, they will also ultimately burn people" were scattered outside the University of Washington's Hillel building. The burning of Jewish books is reminiscent of Jewish books burned during the Inquisition and Holocaust.
(TARGETING JEWISH STUDENTS AND STAFF: GENOCIDAL EXPRESSION; HARASSMENT; HISTORICAL)
May 31, 2016 – EVERGREEN STATE COLLEGE –
In a student-wide vote, students voted to endorse two anti-Israel resolutions, the first to condemn the presence of Caterpillar equipment on campus and the second to de-shelve Sabra hummus. 67.4% of participating students voted for the Caterpillar resolution while 73.9% voted for de-shelving Sabra.
(BDS ACTIVITY: BDS VOTE)
May 28, 2016 – PORTLAND STATE UNIVERSITY –
Students United for Palestinian Equal Rights (SUPER) held the event, "Vegan-Washing the Occupation: Resisting Brand Israel." The description for the event called for BDS, and claimed "Brand Israel" was trying to, "undermine the momentum of the international Boycott, Divestment, and Sanctions (BDS) campaign to end Israeli apartheid." A table for the event had a sign that delegitimized Israel saying, "Stop Israeli…Apartheid."
(ANTISEMITIC EXPRESSION: DEMONIZATION; DELEGITIMIZATION; BDS ACTIVITY (CALLS FOR BDS))
May 23, 2016 – PORTLAND STATE UNIVERSITY –
The student senate talked about a divestment resolution where it was decided the vote would occur in two weeks time, on June 6, 2016. A Jewish student present claimed that at the meeting, "there was a lot of hate. They clearly didn't want to hear the other side. They came with signs with very antisemitic remarks that read 'Only one state, a Palestinian State.' They even said that terrorist attacks are understandable because it's a form of resistance."
(ANTISEMITIC EXPRESSION: CONDONED TERRORISM; DENY JEWS SELF-DETERMINATION; BDS ACTIVITY (BDS VOTE))

See the full list from 2016 HERE.

---
LIKE WHAT WE DO?
PLEASE DONATE OR SHARE!
[addtoany]
[maxbutton id="27″]
Thank You For Taking Action to Protect Jewish Students!
---
Copyright © 2016 The Amcha Initiative, All rights reserved.
Our mailing address is:
The Amcha Initiative
PO Box 408
Santa Cruz, CA  95061-7041
Warm regards,
AMCHA Initiative
[/ezcol_3fifth]
[ezcol_1fifth_end].[/ezcol_1fifth_end]