[ezcol_1fifth]
.[/ezcol_1fifth]
[ezcol_3fifth]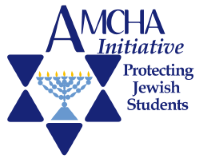 California and New York Update :
The Boycott of Israel is Being Promoted With Your Money on California and New York Campuses 

University of California and California State University
Right now, if you are a California resident, your tax dollars are funding the promotion of the boycott of Israel at CSU-Northridge, UC-Riverside and other CSU and UC campuses. An op-ed co-written by AMCHA Initiative and the Simon Wiesenthal Center was recently published in the Jewish Journal to highlight how academic boycotts of Israel have been brought to California university campuses at the taxpayer's expense:
David Klein is a mathematics professor at California State University, Northridge. David Lloyd is a literature professor at the University of California, Riverside. Besides both being tenured professors at the two largest public university systems in the country, what do these two men have in common?
Klein and Lloyd are both vocal leaders in the campaign to boycott Israeli universities and scholars who have used their state university's name and taxpayer-funded resources to promote a boycott of Israeli universities and scholars — a boycott that has not only been denounced by more than 200 university leaders, including CSU Chancellor Timothy White and UC President Janet Napolitano, but has also been deemed anti-Semitic by state and federal lawmakers and Jewish leaders throughout the world.
Professors Klein and Lloyd have something else in common: At both of their universities, top administrators have defended these two professors, claiming that their use of the university's name and state resources to promote an anti-Semitic boycott of the Jewish state is protected by "academic freedom." Read more
ACTION ALERT – STOP TAXPAYER MONEY FUNDING THE BOYCOTT OF ISRAEL: If you are a California resident and haven't yet signed AMCHA's petition calling on state legislators to ensure that state money is not being used to promote the boycott of Israel on UC and CSU campuses, please consider doing so:

New York University
The boycott movement, of course, isn't restricted to California. Another outrageous event is about to occur at New York University at the end of this week. After more than 200 University leaders, including NYU President John Sexton, have denounced the American Studies Association's boycott of Israeli Universities and scholars as antithetical to the values of academia, the president-elect of the ASA, NYU Professor Lisa Duggan, has co-organized (with the sponsorship of 5 NYU departments) a conference which will take place at NYU February 28 to March 1st, whose primary purpose is to promote the antisemitic boycott of Israel.
All of the 20 speakers at the NYU conference have publicly endorsed the boycott of Israel, and several are organizers of campaigns boycotting Israeli universities and scholars. In addition, the conference includes workshops on how to boycott Israel, given by representatives of anti-Zionist organizations such as Adalah-NY, Students for Justice in Palestine, and Jewish Voice for Peace.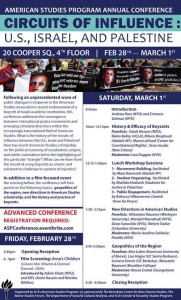 ACTION ALERT – CONTACT PRESIDENT SEXTON: Please write to President Sexton at John.Sexton@nyu.edu or call the Office of the President at (212) 998-2345 and encourage NYU to take a decisive stand against university departmental sponsorship of this event promoting an academic boycott of Israel. Simply put, the Circuits of Influence: U.S., Israel and Palestine video screening and conference, happening on the 4th floor of 20 Cooper Square (Department of Social and Cultural Analysis) is not an educational event, it is antisemitic political advocacy and propaganda.
You may see the full quote of President Sexton previously denouncing the boycott HERE.
Please blind copy AMCHA Initiative, administrator [a] amchainitiative.org, on your email.
Thank you for taking a stand to ensure antisemitism is not being sponsored by your tax or tuition dollars, or university donations.
[/ezcol_3fifth]
[ezcol_1fifth_end].[/ezcol_1fifth_end]