[ezcol_1fifth]
.[/ezcol_1fifth]
[ezcol_3fifth]

Why is the Recent UC Regents Vote so Important?
A year ago, AMCHA launched an extensive campaign to encourage the University of California Regents to adopt a strong statement condemning antisemitism in all of its forms. As a result of the AMCHA-led efforts on behalf of approximately 50 Jewish and education advocacy groups and thousands of California students, professors, parents and community members, the UC Regents passed a landmark statement that condemned, "anti-Semitism, anti-Semitic forms of anti-Zionism and other forms of discrimination." Two recent articles by Tammi Rossman-Benjamin, one in the New York Observer and another in the Jewish Journal, detail the lessons of this historic vote and its implications for Jewish students across the nation.




[addtoany]
---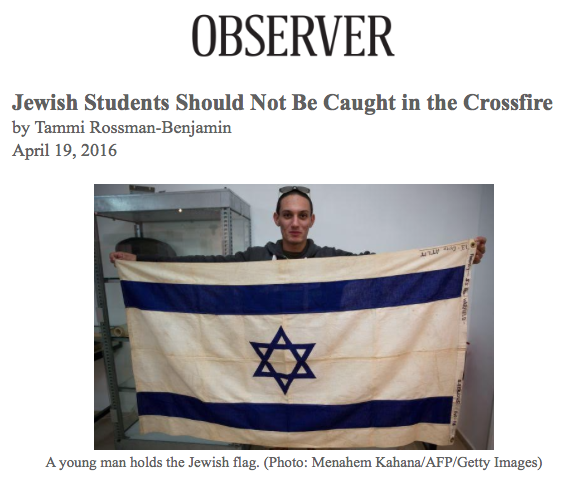 The University of California's unanimous and historic condemnation of "anti-Semitism and anti-Semitic forms of anti-Zionism" has sparked a fierce national debate. Is anti-Zionism anti-Semitic?
There are those who believe anti-Zionism is unquestionably anti-Semitic. In that camp are President Obama, Pope Francis, and the French and British prime ministers. Hillary Clinton, John Kasich, Ted Cruz, Donald Trump and Bernie Sanders have all recently acknowledged anti-Semitism is undoubtedly a factor in the Boycott, Divestment and Sanctions (BDS) movement, the largest anti-Zionist movement on campus. U.S. Senator Cory Booker, many Latin American and Caribbean lawmakers, British Justice Minister Michael Grove and German Foreign Minister Frank-Walter Steinmeier also echoed similar condemnations of BDS as inherently anti-Semitic. There are others who argue anti-Zionism is political speech, and that one can oppose the idea of a Jewish state without being anti-Jewish.
Regardless of one's point of view on anti-Zionism, one thing has become abundantly clear: Jewish students are caught in the crossfire.
The University of California is a case in point. A Jewish member of the UC Santa Cruz student government was warned to "abstain" from voting on an anti-Israel divestment resolution because of his presumed "Jewish agenda." A Jewish student running for office at UCLA was questioned about her eligibility by pro-BDS students simply because of her religion. At UC Davis, swastikas were spray-painted on a Jewish fraternity house days after its members spoke out in support of Israel. At UC Santa Barbara, flyers were circulated blaming Israelis and Jews for 9/11. Three UC campuses were vandalized with anti-Semitic graffiti following fierce BDS campaigns.
While UC, CUNY, Vassar, Oberlin and Northwestern have dominated headlines of late, the alarming rise of campus anti-Semitism and its direct ties to anti-Zionist activity is a problem from coast to coast.
Jewish students have become victims in the often-hostile anti-Zionist movement on campus.
---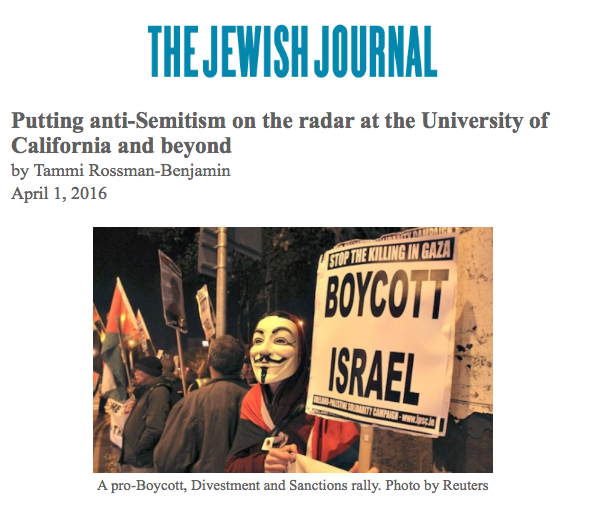 "We respond with more outrage and quicker when the same acts of hate are directed towards other students than to our Jewish students…I really ask my fellow Regents and the Chancellors to ponder why it is we seem less concerned about these acts of intimidation and hate directed against our Jewish students." — University of California Regent Bonnie Reiss at a Regents meeting in November 2015
Last week, the Regents of the University of California unanimously approved a landmark Statement of Principles Against Intolerance containing the following language: "Anti-Semitism, anti-Semitic anti-Zionism and other forms of discrimination have no place at the University of California." Although the statement has been widely hailed within the Jewish community for its unprecedented acknowledgement of anti-Zionism as a source of anti-Jewish hostility, many have overlooked an aspect of the statement's language every bit as significant when it comes to ensuring the safety and well-being of Jewish students: the Regents' clear call for anti-Semitism, in all of its forms, to be treated like every other kind of discrimination at the University of California – no more, but certainly no less.
Why is this so significant? Because for far too long the problem of anti-Jewish bigotry has not been on the radar at the University of California.
---


Following alarming incidents of antisemitism on campus, Western Washington University President Bruce Shepard appointed a task force to address antisemitism on his campus. We appreciate this move as an important step in the right direction, and hope it improves the campus climate for Jewish students.
For more information, please see our Press Release on this commendation.
---
Interested in knowing about recent antisemitic activity on campus?
See our:
2016 Antisemitism Tracker
In the past few weeks of April, AMCHA has documented over 40 incidents of antisemitic activity, including:

April 18, 2016 – UNIVERSITY OF WASHINGTON –
SUPER UW held a panel entitled, "Racism, State Repression, and Empire: Palestine and International Solidarity" as part of "Israeli Apartheid Week." During the panel, remarks by panelists falsely accused Israel of apartheid including that the, "Israeli working class benefits from the exploitation and colonization of the apartheid." Panelists also called for BDS.
(ANTISEMITIC EXPRESSION: DELEGITIMIZATION; BDS ACTIVITY (CALLS FOR BDS))
April 17, 2016 – CITY UNIVERSITY OF NEW YORK, SYSTEM –
The Doctoral Student's Council discussed and then passed a resolution supporting an academic boycott of Israel by a vote of 42-19 with 9 abstentions. The council represents nearly 5,000 graduate students.
(BDS ACTIVITY: BDS VOTE)
April 15, 2016 – UNIVERSITY OF MASSACHUSETTS AMHERST –
The Graduate Employee Organization – United Automobile Workers discussed and passed a divestment resolution with a vote of 156 – 8. According to an article, they also voted down a resolution condemning antisemitism and antisemitic forms of anti-Zionism, as well as, "voted not to vote on a measure calling for the recognition of the Jewish right to self-determination insofar as any people have a right to self-determination and for Israel's right to exist insofar as any state or nation has a right to exist."
(ANTISEMITIC EXPRESSION: DENY JEWS SELF-DETERMINATION; DELEGITIMIZATION; BDS ACTIVITY (BDS VOTE))
April 14, 2016 – HARVARD SCHOOL OF LAW –
At an event co-sponsored by the Jewish Law Students Association and Harvard Hillel entitled, "The Israeli-Palestinian Conflict & the U.S.," during the the Q&A section, an HLS student played on the historical association of a "smelly/dirty Jew" and denigrated the speaker by asking Jewish, Israeli dignitary Tzipi Livni: "How is it that you are so smelly? . . . A question about the odor of Ms. Tzipi Livni, she's very smelly, and I was just wondering."
(TARGETING JEWISH STUDENTS & STAFF: DENIGRATION; HISTORICAL)
April 14, 2016 – MARQUETTE UNIVERSITY –
A mock apartheid wall was set up by SJP on campus. The wall contained a common phrase that condones terrorism, "To exist is to resist" along with the phrase, "From the River to the Sea, Palestine will be Free," which is a call to effectively eliminate Israel.
(ANTISEMITIC EXPRESSION: CONDONING TERRORISM; DENY JEWS SELF-DETERMINATION)
April 12, 2016 – UNIVERSITY OF MINNESOTA –
The student association discussed a divestment bill. After amending to make it a socially responsible bill, where the vote to amend was approved 37-30-7, the final resolution was modified to not target Israel and then passed 45-16-7.
(BDS ACTIVITY: BDS VOTE)
April 12, 2016 – UNIVERSITY OF CHICAGO –
The student government discussed a divestment resolution, which passed 8-4-3. During debate about the resolution, a clause supporting the right of self-determination for the Jewish people and the continued existence of Israel was proposed .That amendment was voted down with four in favor, six against and five abstaining.
(ANTISEMITIC EXPRESSION: DENY JEWS SELF DETERMINATION; BDS ACTIVITY (BDS VOTE))
April 11, 2016 – UNIVERSITY OF MICHIGAN DEARBORN –
Two anti-Israel resolutions were discussed by the Faculty Senate, and ultimately, voted down. One, an academic boycott resolution, was defeated 31-6-1. The second resolution was a divestment resolution and was voted down 32-5.
(BDS ACTIVITY: BDS VOTE)
April 10, 2016 – MOREHOUSE COLLEGE –
Participants at the U.S. Universities Debating Championship (USUDC) at Morehouse College were forced to justify the motion, "This House Believes That Violence By Palestinians Against Israeli Civilian Targets Is Justified."
(ANTISEMITIC EXPRESSION: CONDONING TERRORISM)
April 8, 2016 – UC BERKELEY –
An op-ed piece in the student newspaper falsely referred to "Israel's apartheid state" and "discriminatory apartheid regime" and called for BDS as a call for "Israel to end colonization of [all the land as] Palestinian land."
(ANTISEMITIC EXPRESSION: DELEGITIMIZATION; BDS ACTIVITY (CALL FOR BDS))
April 6, 2016 – VASSAR COLLEGE –
A swastika was found on a sign on a student's door.
(TARGETING JEWISH STUDENTS & STAFF: GENOCIDAL EXPRESSION; HISTORICAL)
April 6, 2016 – SAN FRANCISCO STATE UNIVERSITY –
Pro-Palestinian protesters disrupted a Hillel event involving a speech by Jerusalem Mayor Nir Barkat where a few minutes into the speech, about two dozen protesters , with the intent of shutting down the event, entered and loudly shouted, "Long live the Intifada…Intifada, Intifada…From the River to the Sea, Palestine Will be Free." They succeeded in stopping the event due to the loud disruptions.
(TARGETING JEWISH STUDENTS & STAFF: SUPPRESSION OF SPEECH/MOVEMENT/ASSEMBLY; CONDONING TERRORISM; DEMONIZATION; DELEGITIMIZATION)
April 5, 2016 – STANFORD UNIVERSITY –
During a ASSU Senate meeting, a Stanford senator running for reelection argued that it is not anti-semitic to question whether Jewish people control the media and banks. Gabriel Knight '17, ASSU Senator said, "[The resolution] says: 'Jews controlling the media, economy, government, and other societal institutions' [is] a fixture of anti-semitism that we theoretically shouldn't challenge. I think that that's kind of irresponsibly foraying into another politically contentious conversation. Questioning these potential power dynamics, I think, is not anti-semitism. I think it's a very valid discussion." Many in the room responded with endorsing "snaps" of their fingers.
(ANTISEMITIC EXPRESSION: HISTORICAL)
April 4, 2016 – RUTGERS UNIVERSITY – NEWARK –
Rutgers University-Newark Student Governing Association discussed and passed a BDS resolution, 10-0 with 5 abstentions.
(BDS ACTIVITY: BDS VOTE)
April 3, 2016 – BRANDEIS UNIVERSITY –
A swastika was drawn on a house where several students live in the campus' vicinity, and where an unofficial event hosted by a Jewish group was being held.
(TARGETING JEWISH STUDENTS AND STAFF: GENOCIDAL EXPRESSION; HISTORICAL)
April 2, 2016 – MANHATTANVILLE COLLEGE –
At a Hillel event, an invited speaker was shouted down while talking about Israel and the BDS movement, and the heckler responsible screamed at the audience, "He is brainwashing you, don't believe anything he tells you, it's all lies."
(TARGETING JEWISH STUDENTS & STAFF: SUPPRESSION OF SPEECH/MOVEMENT/ASSEMBLY; HARASSMENT )
See the full list from 2016 HERE.

---
LIKE WHAT WE DO?
PLEASE DONATE OR SHARE!
[addtoany]
[maxbutton id="27″]
Thank You For Taking Action to Protect Jewish Students!
---
Copyright © 2016 The Amcha Initiative, All rights reserved.
Our mailing address is:
The Amcha Initiative
PO Box 408
Santa Cruz, CA  95061-7041
Warm regards,
AMCHA Initiative
[/ezcol_3fifth]
[ezcol_1fifth_end].[/ezcol_1fifth_end]