[ezcol_1fifth]
.[/ezcol_1fifth]
[ezcol_3fifth]
Chancellor Gillman releases a statement outlining actions UC Irvine will take towards the "full implementation of all elements of the Regents' statement."

THANK YOU FOR YOUR EFFORTS!
UC IRVINE CHANCELLOR GILLMAN TAKES IMPORTANT STEP FORWARD
Gillman Becomes First Chancellor to Outline Actions University Will Take Towards Implementing "All Elements" of Regents' Statement
Share the news with your family, friends & fellow activists!


[addtoany]
---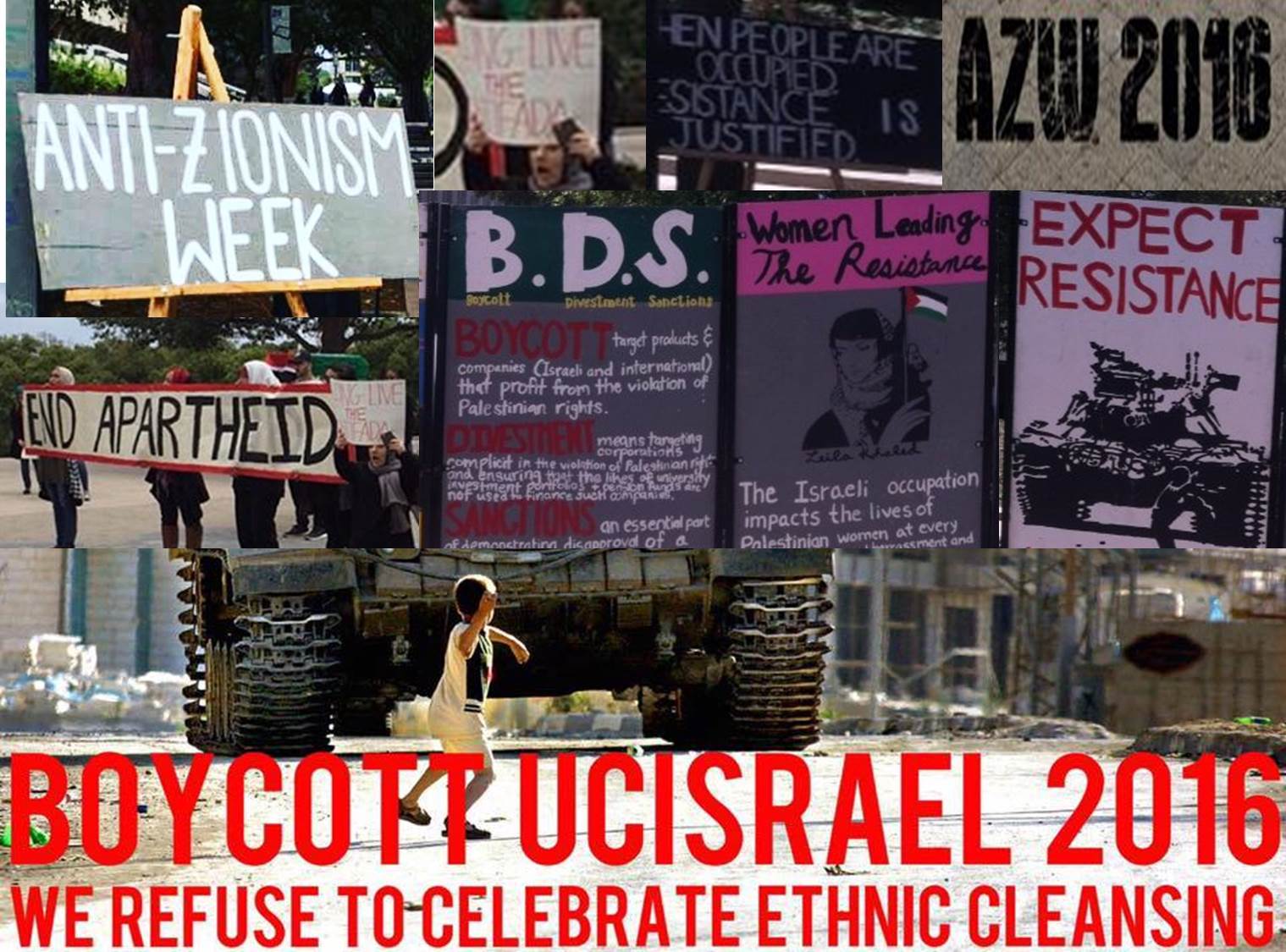 In our last bulletin concerning UC Irvine, we asked you to email Chancellor Gillman and urge him to share his plan of action for implementing the UC Regents Statement of Principles Against Intolerance. The Regents' statement was created as a response to multiple incidents of antisemitism and stated that, "anti-Semitism, anti-Semitic forms of anti-Zionism and other forms of discrimination have no place at the University of California."
We are happy to share the news that Chancellor Gillman responded with a recent statement to the campus community outlining his intention to take pro-active steps towards "the full implementation of all elements of the Regents' statement." In acknowledgement of his leadership in being the first UC chancellor to take positive and concrete steps towards implementation, AMCHA sent a letter signed by 36 organizations thanking Chancellor Gillman. The letter also reminded Chancellor Gillman that he must make educating the campus community about antisemitism and antisemitic forms of anti-Zionism a priority of that implementation, consistent with the Regents' statement.
An update by the university is expected by mid-October, and we will, of course, keep you apprised as developments unfold. We are hopeful that other UC Chancellors will follow Chancellor Gillman's lead.
---
AMCHA'S LATEST OP-ED


The Jewish Exception to Free Speech on Campus
July 29, 2016
By Tammi Rossman-Benjamin

In 2012, the Electronic Intifada, an online anti-Zionist media outlet that aggressively promotes the anti-Israel Boycott, Divestment, Sanctions (BDS) movement, ran a lengthy article suggesting that "allegations of 'anti-Semitism' create a real climate of fear" that is "silencing" pro-Palestinian student activists on U.S. campuses. I couldn't stop laughing when I saw the article, not because of the absurd nature of the charges — that Jewish students were somehow intimidating and silencing pro-Palestinian student activists just by virtue of speaking up about the intimidation, and silencing they themselves were experiencing at the hands of those same activists — I laughed because of the accompanying photograph set beneath the headline. In one concise image, it revealed the utter disingenuousness of the thousand words that followed.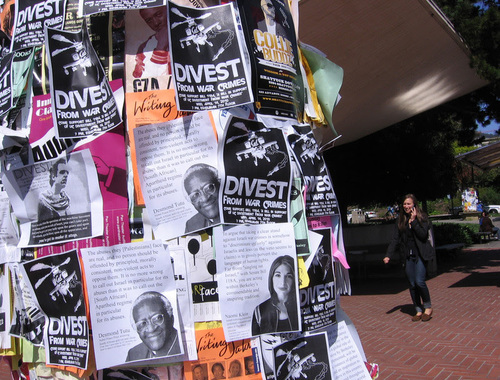 The photo, credited to Students for Justice in Palestine (SJP) at University of California Berkeley, depicted a large pole on campus that was covered from top to bottom with multiple layers of promotional flyers. However, the only ones that were fully visible — because they had been affixed directly on top of the others — were the SJP's flyers demonizing and delegitimizing Israel and urging the university community to support BDS. The juxtaposition of the photo with its caption, "Students face a climate of intimidation on several California campuses," practically begged the reader to think: Which students are facing a climate of intimidation? Certainly not the members of SJP, whose bold and brazen "freedom of expression" to demonize and delegitimize Israel and promote efforts to harm it is literally smothering everyone else's!
In the four years since that article was published, the smothering of speech depicted in the article's photo has not improved. In fact for one group of students, it has gotten worse. Much worse.
---
AN EDUCATIONAL INFOGRAPHIC TO SHARE
[addtoany]
As part of our efforts to educate the public about campus antisemitism, AMCHA created an infographic on how to identify antisemitism. Please share this helpful infographic with your community, family and friends.
Thank you!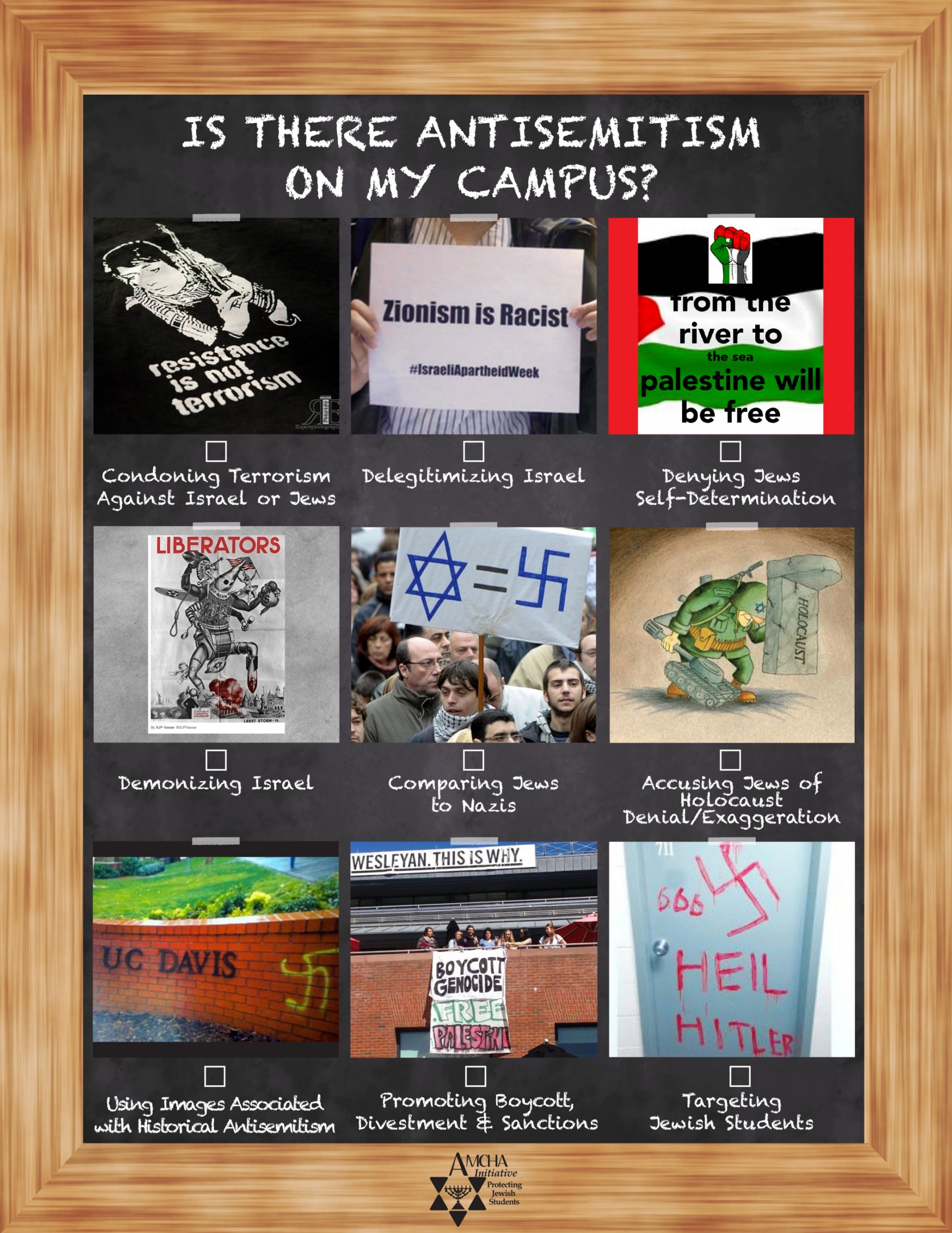 ---
Interested in knowing about recent antisemitic activity on campus?
See our:
2016 Antisemitism Tracker
In the past few weeks of April, AMCHA has documented over 20 incidents of antisemitic activity, including:

The summer months are typically quieter as schools are out of session. However, we see reports of past antisemitic activity surfacing as well as vandalism occurring. Some recent antisemitic activity includes:
August 8, 2016 – NORTHWESTERN UNIVERSITY – A Jewish student writes about an experience at a recent march on campus to combat racism where she was told by march organizers, "You support Israel, so you cannot also support us."
(TARGETING JEWISH STUDENTS AND STAFF: DISCRIMINATION; HARASSMENT)
August 1, 2016 – UC SANTA CRUZ –
Antisemitic fliers were once again printed on networked campus printers that were similar to antisemitic fliers printed in March.
(TARGETING JEWISH STUDENTS AND STAFF: GENOCIDAL EXPRESSION; DENIGRATION; HISTORICAL))
July 19, 2016 – BOSTON UNIVERSITY –
SJP posted a cover photo on Facebook of a protest that occurred on BU's campus, which included visible signs that demonized and delegitimized Israel such as "Zionism = Racism," "AIPAC promotes Ethnic Cleansing"and "No Conversation Under Israeli Apartheid" near a larger sign of "Hey Terriers! Free Palestine." The caption SJP included with the picture was the demonizing and delegitimizing chant, "Displacing lives since '48, there's nothing here to celebrate" and tagged the image with the location of Boston University.
(ANTISEMITIC EXPRESSION: DEMONIZATION; DELEGITIMIZATION)
July 14, 2016 – EVERGREEN STATE COLLEGE –
SJP published an open letter to the Evergreen administration to demand that the administration, "take strong actions in support of…the BDS movement." The letter was in response to the administration not boycotting Caterpillar machinery on campus. The administration had agreed to remove Sabra Hummus from dining following the vote on this issue previously and SJP noted that they were "informed that Sabra…products will be removed from the shelves at Evergreen by Fall Quarter. We will continue to follow up with the work group to ensure that the vote is respected."
(BDS ACTIVITY: CALLS FOR BDS)
July 12, 2016 – UNIVERSITY OF SOUTHERN CALIFORNIA –
The Rohr Chabad Jewish Student Center of USC was robbed. The burglar stole thousands of dollars in computers, video projectors and three pairs of tefillin (Jewish religious item used in prayer).
(TARGETING JEWISH STUDENTS AND STAFF: DESTRUCTION OF JEWISH PROPERTY)
June 30, 2016 – UNIVERSITY OF WASHINGTON –
Neo-Nazi hate messages were chalked on UW's campus targeting Jews with the words "Stop the (((Bankers)))." The triple parentheses are an antisemitic symbol used to identify and target Jews for harassment.
(TARGETING JEWISH STUDENTS AND STAFF: HARASSMENT)
See the full list from 2016 HERE.

---
LIKE WHAT WE DO?
PLEASE DONATE OR SHARE!
[addtoany]
[maxbutton id="27″]
Thank You For Taking Action to Protect Jewish Students!
---
Copyright © 2016 The Amcha Initiative, All rights reserved.
Our mailing address is:
The Amcha Initiative
PO Box 408
Santa Cruz, CA  95061-7041
Warm regards,
AMCHA Initiative
[/ezcol_3fifth]
[ezcol_1fifth_end].[/ezcol_1fifth_end]