[ezcol_1fifth]
.[/ezcol_1fifth]
[ezcol_3fifth]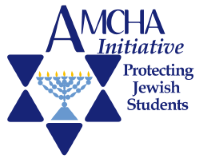 San Francisco State University Update:
JEWISH GROUPS TO PRES WONG: SFSU PROF PROMOTING TERRORISM; INVESTIGATE
AMCHA Uncovers Audiotape of Event; Jewish Students in Tears
ACTION ALERT: Contact President Wong at (415) 338-1381 / president@sfsu.edu and ask him to investigate the event and Professor Abdulhadi for condoning terrorism.
Dear Friends and Supporters:
AMCHA Initiative, Scholars for Peace in the Middle East, the Simon Wiesenthal Center and the Zionist Organization of America, today, wrote to San Francisco State University (SFSU) President Leslie Wong urging him to investigate a recent event held by SFSU Professor Rabab Abdulhadi where she and others glorified and condoned terrorism to SFSU students. AMCHA Initiative coordinated the letter after obtaining an audiotape of the March 6, 2014 event. According to eye-witness accounts, Jewish students were in tears following the meeting.
This is the same professor who was the faculty advisor to the SFSU knife-wielding student investigated by the FBI and Joint Terrorism Task Force, which begs the question – is Abdulhadi trying to recruit new soldiers from the SFSU student body?
Unequivocally, a professor promoting terrorism to impressionable students is highly dangerous.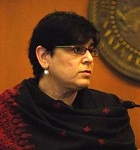 Prof. Rabab Abdulhadi
Abdulhadi is SFSU Ethnic Studies Professor and Director of the Arab and Muslim Ethnicities and Diasporas Initiative (AMED). AMED sponsored the event last fall where students could make posters that said, "My Heroes Have Always Killed Colonizers," meaning Jews, and images of the convicted hijacker Leila Khaled holding a gun. Abdulhadi was also the faculty advisor to Mohammad Hamad, the SFSU student shown wielding a knife on social media with the caption, "I love this blade…it makes me want to stab an Israeli soldier" and publicly threatening SFSU Jewish students, Israelis and supporters of Israel.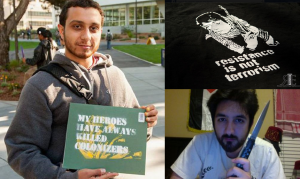 "We are now more than ever concerned for both the physical safety and emotional well-being of Jewish students at SFSU. Given the recent controversy generated by an AMED-sponsored General Union of Palestine Students (GUPS) event featuring an image of Leila Khaled holding a rifle and another with the words, "My Heroes Have Always Killed Colonizers," as well as the revelation of dozens of social media postings of former GUPS president Mohammad G. Hammad in which he expressed violence towards Jews and glorified the terrorist organization PFLP, we fear that an event organized by GUPS faculty advisor and AMED Director Abdulhadi which exalts terrorism could potentially incite violence on your campus," wrote the Jewish groups in the letter to Wong.
Examples of Abdulhadi and other speakers promoting terrorism at the meeting:
Abdulhadi praised individuals affiliated with U.S. State Department-designated terrorist organizations responsible for the murder of numerous Jews worldwide, including Khaled and Sheikh Raed Salah.Khaled, a convicted hijacker and most famous member of the PFLP, a terrorist organization responsible for 159 deaths, was refused entry to Israel, Britain and Canada.Salah is the leader of the northern branch of the Islamic Movement in Israel and has been convicted of funding Hamas, served a two-year prison sentence and has been arrested and charged for multiple illegal incidents.Abdulhadi and a SFSU delegation met with these individuals on a recent trip.
Jaime Veve, Abdulhadi's husband, called Palestinians who had injured or murdered Jews "heroes or heroines."
Abdulhadi called documented hijacker Khaled, "an icon for women's liberation."
Abdulhadi denied Salah had terrorist ties, saying, "if he were actually accused of quote unquote terrorism in Israel, he would be in jail." However, not only had Salah been in prison for two years for aiding and abetting Hamas, on March 4th, two days before the SFSU event, Salah was sentenced to another prison term for inciting violence.
Abdulhadi announced she is working toward collaborative agreements between CSU and An-Najah and Birzeit, two Palestinian universities known for their virulent antisemitism and support of terrorism, and encouraged students to study there.According to the Anti-Defamation League, "Today the student council of An-Najah is known for its advocacy of anti-Israel violence and its recruitment of Palestinian college students into terrorist groups."
In addition, the speakers' reports were full of inaccuracies, distortions and lies intended to demonize and delegitimize Israel.
"We urge you to conduct your own investigation of this event and the anti-Israel boycott delegation that it showcased, in order to determine whether faculty behavior such as Prof. Abdulhadi's is compromising the campus climate for Jewish and Israeli students at SFSU," wrote the groups to Wong.
You may see the letter to President Wong HERE.
TAKE ACTION: Call President Wong at (415) 338-1381 and ask him to conduct an investigation of this event, to determine whether Prof. Abdulhadi's behavior is compromising the campus climate for Jewish and Israeli students at SFSU. You may also email President Wong at president@sfsu.edu.
Thank you for your help.
Regards,
Amcha Initiative
[/ezcol_3fifth]
[ezcol_1fifth_end].[/ezcol_1fifth_end]