[ezcol_1fifth]
.[/ezcol_1fifth]
[ezcol_3fifth]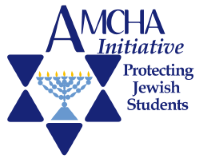 San Francisco State University Update:
SFSU FUNDED TERRORIST MEETING
Public Records Inquiry Indicates Professor Lied
to University Check Signers About Middle East Trip –
8 Groups Demand Action
TAKE ACTION: Contact President Wong at (415) 338-1381 or president@sfsu.edu, and urge him to investigate this matter and publicize the findings.
Dear Friends and Supporters:
A California Public Records Act inquiry, requested by AMCHA Initiative, revealed that San Francisco State University (SFSU) Professor Rabab Abdulhadi received more than $7,000 from SFSU to fly to Jordan, the West Bank and Israel to meet with known a terrorist and individuals closely affiliated with terrorist organizations.
Abdulhadi claimed the purpose of her trip was for academic and University business-related reasons and she concealed the true nature of her trip – personal political activism – on at least four documents with administrators, including President Wong, who approved the trip. Evidence demonstrated that Abdulhadi had actually always intended to use the University-funded trip to build relationships with anti-Israel political activists to promote anti-Semitic academic, cultural and economic boycotts of Israel, and the meetings were set before Abdulhadi requested University approval.
This is the same professor who was the faculty advisor to the SFSU knife-wielding student investigated by the FBI and Joint Terrorism Task Force. She was also caught on tape glorifying terrorism to SFSU students.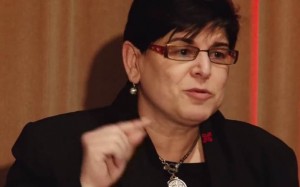 Rabab Abdulhadi / Photo Credit: Youtube
On the University-funded trip, Abdulhadi, SFSU Ethnic Studies Professor Joanne Barker and Abdulhadi's husband, Jaime Veve, met with convicted terrorist Leila Khaled and Sheikh Raed Salah, who was convicted of aiding and abetting Hamas and calling for violence against Jews.
After reviewing all documents and discovering this grave situation, AMCHA Initiative's cofounders, Tammi Rossman-Benjamin and Leila Beckwith, detailed the egregious misuse of taxpayer funds, evidence of Abdulhadi's concealment of the purpose of the trip, and meetings with a terrorist and individuals affiliated with terrorist organizations in a letter to CSU Chancellor Timothy White, SFSU President Leslie Wong, CSU Vice Chancellor, Chief Audit Officer Larry Mendel and CSU Attorney Carrie Hemphill Reith.
Seven organizations joined AMCHA Initiative in signing the letter, which called on SFSU to investigate this matter immediately, and to make public the results of the investigation: Brandeis Center for Human Rights Under Law, Institute for Black Solidarity with Israel, Proclaiming Justice to the Nations, Scholars for Peace in the Middle East, Simon Wiesenthal Center Campus Outreach, StandWithUs, and Zionist Organization of America.
A copy of the letter explaining all details can be seen HERE.
TAKE ACTION: Contact President Wong at (415) 338-1381 or president@sfsu.edu, and urge him to investigate this matter and publicize the findings.
Thank you!
Regards,
Amcha Initiative
[/ezcol_3fifth]
[ezcol_1fifth_end].[/ezcol_1fifth_end]