[ezcol_1fifth]
.[/ezcol_1fifth]
[ezcol_3fifth]

MEANINGLESS "PRINCIPLES AGAINST INTOLERANCE" DOES NOT PROTECT JEWISH STUDENTS
Tell the UC Regents: The proposed watered down statement of principles does nothing to mitigate antisemitic bigotry. They must take further action to protect Jewish students either by adopting State Department definition, or at the minimum, including elements of modern antisemitism in UC policy
---

In response to ugly and vicious anti-Semtism, UC was supposed to address the concerns of Jewish students and the community. The proposed statement of principles against intolerance, which the Jewish community was led to believe would address their serious and well-founded concerns, is instead watered down and overly broad as to be meaningless. It does not even mention antisemitism, and it will do nothing to mitigate the antisemitic bigotry that Jewish students are currently facing at the University of California.
At the upcoming meeting September 17th, the UC Regents will hold an open discussion about the intolerance statement. It is imperative UC understands that the Jewish community needs more than vague generalities. The University of California needs to condemn antisemitism in all forms, including discrimination, demonization, delegitimization, or harassment against the Jewish people, individually or collectively, and holding individual Jews collectively responsible for the actions of the State of Israel, or applying traditional anti-Jewish stereotypes and defamations to Israel.
In the wake of unprecedented and alarming antisemitic activity on UC campuses, virtually all of it linked to virulent anti-Israel expression, the Jewish community demanded better protection of Jewish students. Yet, the University of California chose to ignore the outpouring of concern for the safety and well-being of Jewish students and the strong Jewish communal support for the University's adoption of the U.S. State Department definition of antisemitism. UC disregarded more than 80 Jewish student leaders, 17 Jewish student groups, 50 religious, civil rights, advocacy and legal organizations (including ADL, AJC and Hillel International), 35 preeminent scholars of contemporary anti-Semitism, thousands of UC students, alumni, parents, faculty and donors, and dozens of California Jewish community leaders.
To say such blatant disregard for tremendous Jewish community concern about the protection of Jewish students is an outrage would be an understatement.

TAKE ACTION: Write to the Board of Regents (regentsoffice@ucop.edu) being sure to CC UC President Napolitano (president@ucop.edu) and BCC AMCHA Initiative (administrator@amchainitiative.org). Let the Regents know that the Principles Against Intolerance does not protect Jewish students. In the absence of a meaningful statement of principles, the Regents must take substantive steps to address the difficult situation facing Jewish students on UC campuses – either by adopting the State Department definition of antsemitism, or at the very least, the inclusion within UC policy of the well-documented understanding that demonization and delegitimization of Israel and denying its right to exist is part of modern antisemitism. If they do not, they will be sending a loud and clear message to the California Jewish community: UC does not care about Jewish students, and are unwilling to ensure their safety and well-being.


---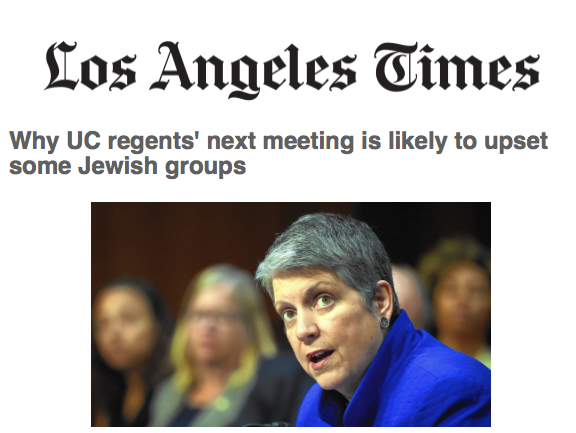 UC President Janet Napolitano said in May that she personally supported the State Department definition of anti-Semitism but that it would be up to the regents to decide whether to use it at UC. (Astrid Riecken / Getty Images)
By LARRY GORDON
The passionate politics of the Israeli-Palestinian conflicts may seem off topic for a university governing board more accustomed to setting tuition levels, approving the salaries of campus chancellors and managing a vast hospital system.
But emotions surrounding the Middle East situation are expected to be felt once again at next week's meeting of the UC Board of Regents.
The regents are scheduled to review a new statement of "principles against intolerance" that condemns bias, violence, threats and hate speech based on race, ethnicity, religion, citizenship, sex or sexual orientation.
According to a proposed draft, "everyone in the university community has the right to study, teach, conduct research and work free from acts and expressions of intolerance."
The statement adds that it is not intended to inhibit faculty's classroom lectures and scholarship or students' political or literary expression protected by "academic freedom or free-speech principles."
Such a broad and generalized statement clearly will upset some Jewish groups that want UC to formally adopt a U.S. State Department definition of anti-Semitism that includes the demonization of Israel and denials of that nation's right to exist, among other things. Those groups, which will be presenting petitions to the regents, say that anti-Israel protests and activism on UC campuses sometimes cross the line into anti-Semitism and create a hostile environment for Jewish students.
The regents also have heard from faculty and students who say they fear that any such definition of anti-Semitism is too specific and could curtail freedom of speech on the 10 campuses. They are worried that someone who criticizes Israel's treatment of Palestinians in the West Bank or Gaza regions it occupies could be labeled a bigot and face disciplinary action.
The UC statement stays away from a specific definition of anti-Semitism because regents and administrators thought it would be better to address intolerance "over a broader spectrum" that includes anti-Jewish bias and other forms, UC spokesman Steve Montiel said. He noted the matter probably will trigger "robust discussion" at the regents' meeting Sept. 17 at UC Irvine, and might change over the next few months before the regents possibly decide to take a formal vote on it.
UC President Janet Napolitano and UC Regents Chairwoman Monica Lozano declined to be interviewed on the issue in advance of the meeting, Montiel said. Napolitano, who is a former U.S. secretary of Homeland Security, said in a radio interview in May that she personally supported the State Department definition but that it would be up to the regents to decide whether to use it at UC.
The issue arose in part as a result of several troubling incidents this year at UC schools, including the defacing of a Jewish fraternity house at UC Davis with Nazi swastikas in January. In February, several student government leaders at UCLA questioned a student's for a campus judicial panel because she is Jewish; those leaders later apologized and the student was unanimously approved for the position. A video of parts of the meeting went viral, triggering national concern about Jewish students possibly being excluded.
The proposed "statement of principles" seems to have those incidents in mind. It includes a "non-exhaustive list" of behaviors it says "do not reflect the university's values of inclusion and tolerance." Among those are vandalism and graffiti with symbols of hate, including swastikas and nooses; questioning a student's fitness for a leadership role based on race, religion, ethnicity, gender and other factors; and depicting ethnic or racial groups as less ambitious, less talented or more threatening than others.
Groups pressing for UC to adopt the State Department definition of anti-Semitism are disappointed. But they will continue to lobby the regents over the next months, said Tammi Rossman-Benjamin, director of the AMCHA Initiative, an organization that seeks to combat anti-Semitism at colleges and universities. If the regents do not take more concrete actions, "Jewish students will continue to suffer and anti-Semitism is going to get worse," said Rossman-Benjamin, who is a lecturer at UC Santa Cruz.
Rossman-Benjamin said the goal is not to discipline or silence anti-Israel activists. She said having the State Department definition as a standard could lead to self-regulation of behavior and speech.
Last revised in 2010, the State Department definition also says it is anti-Semitic to compare Israeli policy to that of the Nazis and to blame Israel for all interreligious or political tensions.
---
ARTICLES ABOUT OUR EFFORTS:
JNS – 9/10/15 –
The University of California's teachable moment on anti-Semitism
Santa Cruz Sentinel – 9/8/15 –
TAMMI ROSSMAN-BENJAMIN: UC is not a welcoming place to Jewish students
LA Daily News – 9/6/15 –
LISA AGAY (ON BEHALF OF 50 UCLA ALUMNI): UC Board of Regents must protect students from anti-Semitism: Guest commentary
J Weekly – 9/4/15 –
ALVIN SOKOLOW: U.C. should adopt State Department definition of anti-Semitism
The Press Enterprise – 9/5/15 –
SUZANNE SINGER: Anti-Semitism at colleges threat to all
The Jewish Press – 9/2/15 –
The red herring of the definition debate
The Tower – 9/2/15 –
Scholars Urge University of California to Adopt State Department Definition of Anti-Semitism
Santa Monica Mirror – 8/29/15 –
Anti-Semitism Issue Again Confronts UC Regents
See a full list of articles HERE
---
[frame]

If you haven't already done so, please join our Alumni Network!

Thank you for taking action to protect Jewish students!
[/frame]
Warm regards,
AMCHA Initiative
[/ezcol_3fifth]
[ezcol_1fifth_end].[/ezcol_1fifth_end]