[ezcol_1fifth]
.[/ezcol_1fifth]
[ezcol_3fifth]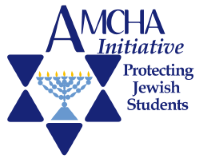 GOOD NEWS – OUR EFFORTS ARE PAYING OFF!
TAKE ACTION!
SHARE WIDELY: Forward to a Friend, Share on: Twitter & Facebook

QUICK SUMMARY: Following AMCHA-led efforts to urge the University of California to adopt the U.S. State Department's definition of antisemitism, we are very pleased to announce two major developments:
UC President Napolitano stated in a radio interview on Boston NPR's Here and Now that her "personal view" is that UC should adopt the State Department's definition of antisemitism.
At its upcoming meeting in July, the UC Board of Regents will consider adopting the State Department's definition of antisemitism as UC policy.
Thank you to all of our supporters who signed our petitions, contacted UC President Napolitano, and spoke out about this issue! AMCHA co-founder Tammi Rossman-Benjamin presented the petitions at the Board of Regents meeting yesterday.

It is important to note that there are many anti-Israel activists who are trying to thwart our efforts and will demand that the UC Regents reject the State Department definition at their upcoming meeting. Therefore, we want to show the Regents that thousands of UC stakeholders strongly support UC's adoption of the State Department definition and its use in identifying and addressing antisemitic behavior with the same vigor as all other bigotry:
Please SIGN OUR NEW UC STAKEHOLDER PETITION, and share it with other UC stakeholders (alumni, donors, students, parents, taxpayers, etc).
---
ARTICLES ABOUT OUR EFFORTS:
LA Times –
Definition of anti-Semitism provokes campus debates
Chronicle of Higher Education –
Israel-Boycott Debate Spurs Fight Over Definition of 'Anti-Semitism'
Algemeiner –
Hundreds of UC Alums Join 23 Groups Urging Schools to Adopt State Department Antisemitism Definition
San Francisco Gate –
Group demands UC action against anti-Semitism on campuses
90.9 WBUR, Boston's NPR –
UC's Napolitano Speaks Out On High Cost Of Public Ed, Anti-Semitism On Campus
Jewish Journal –
UC President Janet Napolitano wants UC to regard some anti-Israel views as anti-Semitic
JTA –
Univ. of California alumni call for steps to curb campus anti-Semitism
Jewish Journal –
In California and Washington, a push to define and redefine anti-Semitism
---
SHARE WIDELY: Forward to a Friend, Share on: Twitter & Facebook
[frame]

If you haven't already done so, please join our Alumni Network!

Thank you for taking action to protect Jewish students!
[/frame]
Warm regards,
AMCHA Initiative
[/ezcol_3fifth]
[ezcol_1fifth_end].[/ezcol_1fifth_end]