[ezcol_1fifth]
.[/ezcol_1fifth]
[ezcol_3fifth]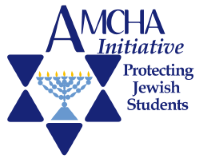 Top UC Administrator Addresses Jewish Concerns; Protects Jewish Students
Provost Dorr Affirms that UC Policy Prohibits Graduate Student Instructors From Bringing Hateful Antisemitic Propaganda or the Boycott of Israel Into the Classroom
AMCHA Initiative was joined by 11 Jewish advocacy groups in applauding University of California (UC) Provost Aimee Dorr and UC administrators for protecting the well-being of Jewish students by affirming that, according to University policies, graduate student instructors may not bring political propaganda and advocacy, including the promotion of a boycott of Israel, into UC classrooms. This is the first time that University administrators have publicly acknowledged such policies and their intention to enforce them!
The groups had written to UC President Janet Napolitano in August after the 83-member joint council of UAW 2865, representing all the graduate student instructors, tutors and readers at the 9 teaching campuses of the University of California, issued a statement outlining the union's intent to support the anti-Israel and antisemitic Boycott, Divestment and Sanctions (BDS) movement, and to seek a full-membership vote. The groups wrote to Napolitano that while supporting the free speech of members outside of an instructional setting, they were jointly concerned that the union members would bring unscholarly, politically-motivated and antisemitic propaganda and advocacy into UC classrooms, where it does not belong.
Many AMCHA supporters also wrote letters to President Napolitano, urging her to provide public assurance that graduate student instructors would not be allowed to promote hateful antisemitic propaganda or the boycott of Israel as part of their teaching responsibilities. Your letters had an impact!
In response to our letters, Provost Dorr, on behalf of Napolitano, affirmed that the University's Policy on Course Content and other UC policies prohibit academic student employees (ASEs) from engaging in such actions, and she assured us that all ASEs would be reminded of these policies and their obligation to adhere to them. Dorr also wrote to all Chancellors notifying them of the UC policies which prohibit ASEs from using their instructional positions to promote political propaganda or advocacy, including the promotion of a boycott of Israel.
In Dorr's letter to all Chancellors she explicitly stated, "Attached is a letter from Tammi Benjamin, AMCHA Initiative, raising concerns about academic student employees (ASE) supporting the Boycott, Divestment and Sanctions (BDS) movement in classrooms. In the last several weeks, we have received over a hundred emails similar to Ms. Benjamin's. You may have received such inquiries as well."
Your activism helped Provost Dorr take the appropriate steps necessary to protect Jewish students on UC campuses. Thank you for your time, passion, and actions that greatly contributed to these positive results!

AMCHA's Report on Anti-Israel and Antisemitic Bias at UCLA's Center for Near Eastern Studies Having an Impact

1) Ranking Member on the House Appropriations Committee Recommends Reform: We are pleased that in response to a statement from AMCHA Initiative and several other educational and Jewish organizations expressing concern that some Middle East studies programs are misusing Higher Education Act Title VI funding to promote anti-Israel bias, the Ranking Member on the House Appropriations Committee, Congresswoman Nita Lowey (D-Westchester/Rockland), sent a letter to Education Secretary Arne Duncan urging him to immediately adopt standards to prevent imbalanced higher education programs with anti-Israel attitudes from receiving federal funds.
Lowey's letter states that, "Anti-Semitism is a scourge on society that has far-reaching and dangerous effects. The Department of Education must address concerns that a number of imbalanced programs of Middle East Studies are disproportionately focused on and are biased against Israel…It is vital to ensure that academic programs do not become tilted against Israel in a way that engenders anti-Semitism or criticism of Israel that devolves into the defamation of the Jewish people."

2) AMCHA Initiative Publishes Articles to Highlight Issues of Concern:

a) AMCHA Initiative co-founder Leila Beckwith's op-ed in The Daily Bruin reaches out to students and the UCLA community to highlight anti-Israel bias at UCLA.

b) AMCHA Initiative co-founder Tammi Benjamin's op-ed in The Blaze provides general coverage of the issues and ties the report to Title VI reform.
Thank you for your support of AMCHA Initiative, and your actions to protect Jewish students.
Warm regards,
AMCHA Initiative
[/ezcol_3fifth]
[ezcol_1fifth_end].[/ezcol_1fifth_end]