[ezcol_1fifth]
.[/ezcol_1fifth]
[ezcol_3fifth]
Campus Antisemitism Update: 16 Swastikas and "GAS JEW DIE"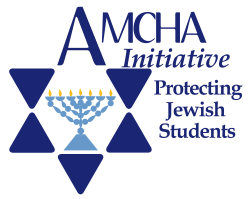 Campus Antisemitism Update: 16 Swastikas and "GAS JEW DIE"
[addtoany]
[maxbutton id="27″]
Following a contentious election in which escalating political animosity has led to campus unrest, Jewish students find themselves in a particularly vulnerable position. In the past two weeks, AMCHA Initiative has recorded nearly 40 antisemitic incidents on U.S. campuses. The following are some of the antisemitic incidents that have occurred:
Swastikas appeared on 16 campuses, including some on the doors of Jewish students' dorm rooms, at American University, College of William and Mary, Earlham College, Franklin and Marshall College, New York University, Reed College, SUNY Geneseo, SUNY Purchase, Susquehanna University, The New School, University of California San Diego, University of Florida, University of Mississippi, University of New Mexico, University of Vermont and Wesleyan University.
At Oberlin College, a Jewish professor found a note tucked behind a mezuzah on his door frame that read "GAS JEW DIE."
At Brandeis University, a driver threw a cup of beer at a student and shouted an antisemitic slur at him.
At Michigan State University, SJP members protested an MSU Hillel event, "Israel Fest: Blooming the Desert." Protesters demonized an Israeli leader shouting, "Netanyahu what do you say, how many kids have you killed today." According to an article in the school newspaper, protesters additionally handed out demonizing flyers that "claimed the Israeli Defense Force killed many Palestinian children and used poison gas."
At Washington University St. Louis, a group of around 10 protesters affiliated with Students for Justice in Palestine disrupted a talk by an Israeli LGBTQIA activist by performing a planned walkout. Prior to the Q& A period, the protesters stood up wearing tape over their mouths and holding delegitimizing signs reading "No Pride in Apartheid" before leaving the room.
At the University of Michigan, the student government discussed the 10th divestment resolution brought to the University of Michigan system for yet another grueling and divisive meeting. The resolution failed, with a vote of 34 to 13 to reject the divestment resolution.
At the University of Florida Gainsville, three fliers reading "Tired of anti-white propaganda in college? You aren't alone" were reported on campus. According to the Alligator, "At the bottom of the fliers was a link to The Right Stuff, an anti-Semitic blog with an affiliated podcast that created the "parenthesis meme," in which Jewish names are surrounded by parentheses, often in order to target them for online abuse on social media.

For the full list of incidents and links, please see AMCHA Initiative's Antisemitism Tracker, with over 500 incidents recorded in 2016.
---
Help us fight back against campus antisemitism. Together we can make a difference!
In the spirit of Thanksgiving, we want to express our sincere gratitude for your support of our efforts to protect Jewish students.

Thank you!
Share this bulletin with your family, friends & fellow activists!
[addtoany]
---
AMCHA Co-Founder to Speak at CAMERA Conference on December 4th: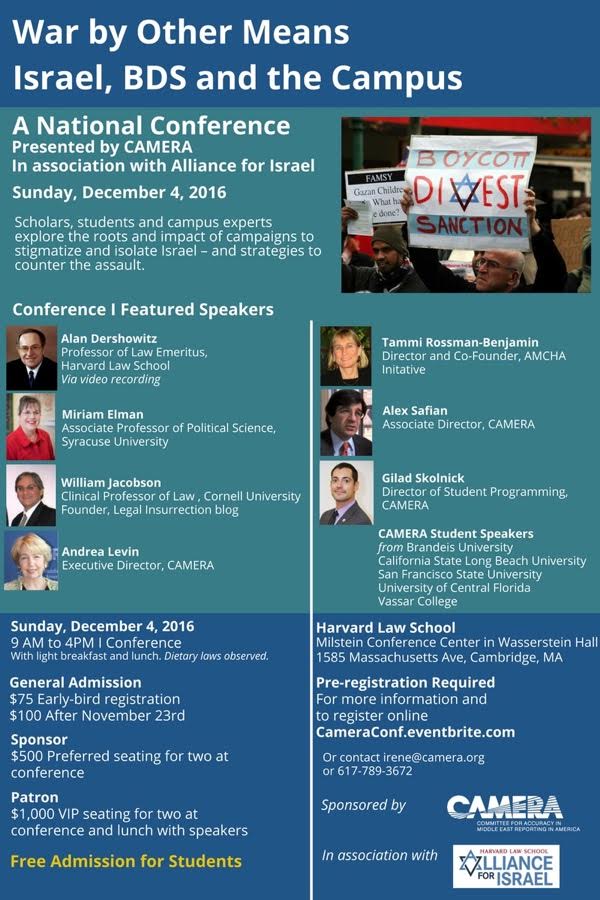 ---
LIKE WHAT WE DO?
PLEASE DONATE OR SHARE:
[addtoany]
[maxbutton id="27″]
---
Copyright © 2016 The Amcha Initiative, All rights reserved.
Our mailing address is:
The Amcha Initiative
PO Box 408
Santa Cruz, CA  95061-7041
Warm regards,
AMCHA Initiative
[/ezcol_3fifth]
[ezcol_1fifth_end].[/ezcol_1fifth_end]