[ezcol_1fifth]
.[/ezcol_1fifth]
[ezcol_3fifth]
2016: Troubling Student Voices and Acts of Anti-Jewish Hostility
[addtoany]
[maxbutton id="27″]
As an integral part of its mission, AMCHA Initiative monitors antisemitic activity and its impact on Jewish students at colleges and universities across the nation, and AMCHA's on-line Trackers comprehensively document this information and make it accessible to a wide range of institutions and organizations, public officials, journalists and concerned members of the public, including students, prospective students and their families, alumni, university donors, and taxpayers.
Here is a sampling of some of the most troubling student accounts and antisemitic incidents this year:
 
Student Voices
In 2016, AMCHA documented 180 published testimonials of Jewish students on nearly 70 campuses, including: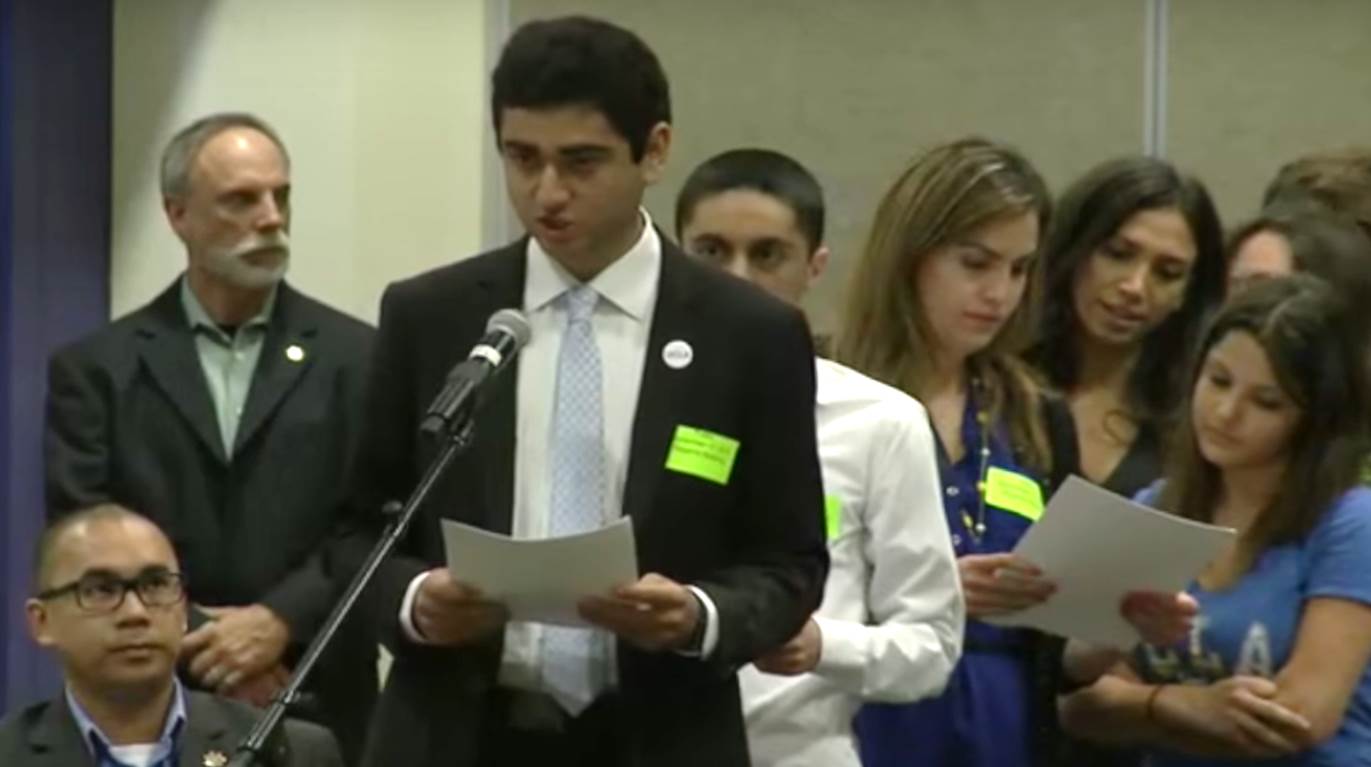 UC Irvine – "I was terrified. There is no other word to describe how I felt."
University of Illinois at Chicago – "There were anti-Israel chants in the room along with Jewish students being harassed to the point they needed to be escorted by campus police to safety."
University of Wisconsin Madison – "Ultimately, the administration failed the Jewish community on this campus."
University of Chicago – "All I want to know is why my campus doesn't treat anti-Semitism with the same rigor with which it treats any other forms of bias."
Columbia University – "The professors who support us have said they can't come out publicly on our side, because they're afraid it would jeopardize their careers."
Oberlin College – "[we] feel increasingly threatened, censored, and silenced by [our] peers and the Oberlin community who are impatient and dismissive of complaints of anti-Semitism."
Boston University – "It's really scary. As a Jewish student, I'm very concerned."
University of Southern California – "I have been the target of vicious anti-Semitism."
Swarthmore College – "The greatest barrier to confronting anti-Semitism in 2016 seems to be proving that it exists."
For the full list, please visit AMCHA's Student Voices webpage.
Acts of Anti-Jewish Hostility
AMCHA documented 171 incidents in which Jewish students or faculty were targeted for harm on 102 campuses in 2016 (out of a total of over 600 antisemitic incidents documented), including:


Oberlin College – A Jewish professor found a note tucked behind a mezuzah on his door that read, "GAS JEWS DIE."
Brandeis University – A driver threw a cup of beer at a student and shouted an antisemitic slur at him on campus.
Duke University – Antisemitic graffiti stating "Gas the Kikes" was painted on the East Campus bridge
Brown University – Bestselling author Janet Mock cancelled a speech at Hillel in response to a petition stating it was inappropriate for her to appear at Hillel because the group has defended, "racial apartheid" and was "complicit in pinkwashing."
University of North Charlotte – A Nazi flag with a swastika was hung from Laurel Hall, a freshman dorm on campus.
San Francisco State University – GUPS members and other protestors disrupted a Hillel event involving a speech by Jerusalem Mayor Nir Barkat where a few minutes into the speech, about two dozen protesters, with the intent of shutting down the event, entered and loudly shouted, ""Get the hell off our campus!"…Long live the Intifada…Intifada, Intifada…From the River to the Sea, Palestine Will be Free." They succeeded in stopping the event due to the loud disruptions that occurred for about an hour in a very clear willful, material and substantial disruption.
Multiple Campuses – An antisemitic flier was distributed to networked printers and fax machines on campus. The flier had swastikas and said, "White Man are you Sick and Tired of the Jews Destroying Your Country through Mass Immigration and Degeneracy? Join Us in the Struggle for Global White Supremacy at the Daily Stormer."
Northwestern University – A Jewish student was told by march organizers of a march to combat racism, "You support Israel, so you cannot also support us."
For the full list, please visit AMCHA's Antisemitism Tracker.
On a Positive Note
With your help, AMCHA Initiative achieved a number of successes in its efforts to combat campus antisemitism in 2016. And with your help, we will continue to achieve success in ensuring the safety and well-being of Jewish students in 2017 and beyond. Together, we can make a difference!
From all of us at AMCHA Initiative, we wish you and your family a Joyous Chanukah and a Happy and Healthy New Year!
---
LIKE WHAT WE DO?
PLEASE DONATE OR SHARE:
[addtoany]
[maxbutton id="27″]
---
Copyright © 2016 The Amcha Initiative, All rights reserved.
Our mailing address is:
The Amcha Initiative
PO Box 408
Santa Cruz, CA  95061-7041
Warm regards,
AMCHA Initiative
[/ezcol_3fifth]
[ezcol_1fifth_end].[/ezcol_1fifth_end]