AMCHA's Responses to Antisemitic Activity at San Francisco State University 
 —————————-
5. An incendiary message was shared on the official Facebook page of AMED that was written by its founding director. The message targeted Jewish students for discrimination. 
4. 

SFSU Funding Pro-Terror Trip of Faculty member
INCIDENT

:

 Documents received by AMCHA Initiative in response to a California Public Records Act request submitted to SFSU on April 10, requesting all records regarding the University's funding of a "Labor Delegation to Palestine 2014″ led by SFSU Professor Rabab Abdulhadi, suggested an egregious misuse of University and taxpayer funds. According to these documents, Prof. Rabab Abdulhadi received more than $7,000 from the University, including an advance of $2,000, to cover the cost of her trip. However, we believe that in order to procure the administrative approval necessary for securing such University funding, the nature and purpose of Abdulhadi's trip were misrepresented on at least 4 official University documents that were reviewed and approved by the SFSU Risk Management Office and Abdulhadi's Dean, Kenneth Monteiro.On the University-funded trip, Abdulhadi, SFSU Ethnic Studies Professor Joanne Barker and Abdulhadi's husband, Jaime Veve, met with:

Leila Khaled, a convicted hijacker and the most famous member of the Popular Front for the Liberation of Palestine (PFLP), a terrorist organization responsible for 159 terrorist acts such as bombings, armed assault and assassinations, resulting in numerous injuries and deaths including those of more than 20 US citizens. Khaled has been refused entry to Israel, Britain, and Canada.
Sheikh Raed Salah, leader of the northern branch of the Islamic Movement in Israel, who was convicted of funding the terrorist organization Hamas and served a two-year prison sentence 2003 – 2005. In 2008, Salah was charged with incitement to violence and racism. In 2010, Salah was also arrested for his participation on the Mavi Marmara, part of the Gaza Freedom Flotilla. Salah was recently incarcerated again on charges of incitement to violence.

Evidence demonstrates that Abdulhadi always intended to use the University-funded trip to build relationships with anti-Israel political activists to promote anti-Semitic academic, cultural and economic boycotts of Israel and the meetings were set before Abdulhadi requested University approval.
3. SFSU Antisemitic Faculty Event
INCIDENT: SFSU professors, including Professor Rahab Abdulhadi, the faculty advisor to the former knife-wielding student and the General Union of Palestinian Students (organizers of "My Heroes Have Always Killed Colonizers" event), hosted an event on Thursday (3/6/14) about their trip to the "West Bank" and "the 1948 areas of Palestine" (i.e. Israel). The professors stated publicly that the purpose of the event is to inform students about the trip and to promote the anti-Israel boycott movement.  However, according to a blog discovered by AMCHA, the group met with Palestinians who argue for the use of armed violence against the Jewish state, and at least two of the meetings were with individuals affiliated with US State Department-designated terrorist organizations responsible for the murder of numerous Jews worldwide
3/5/14 – AMCHA RESPONSE: AMCHA coordinated

a letter

from leading CA and national Jewish groups — including the Simon Wiesenthal Center, Scholars for Peace in the Middle East, StandWithUs, and the Zionist Organization of America — demanding that SFSU President Wong and CSU Trustees speak out forcefully against this event and provide counter-programming to educate students about the antisemitic nature of anti-Israel boycotts.
3/26/14 – AMCHA RESPONSE: An audiotape is uncovered that reveals the event was worse than expected. AMCHA Initiative, along with Simon Wiesenthal Center, Scholars for Peace in the Middle East, and the Zionist Organization of America, 

write to President Wong

 calling on him to investigate.

To Date: No response on this issue from President Wong
2. Violent Public Postings Uncovered of the President of SFSU-Funded Student Group (General Union of Palestine Students) 
INCIDENT: Violent public postings were uncovered of GUPS President Mohammad G. Hammad which included statement such as:
"There are children shouting outside and I want to set them on fire."
"I think about killing a lot/and some of you are usually the targets of my daydreams."
Caption underneath photo of long sword: "I want it. Imagine me cutting off the heads of those in the IDF with this."
"Oh/And, tomorrow is (hopefully) the day that I find out if I will be the President of the General Union of Palestine at my school/…Hopefully I'll be able to radicalize half of our population and bring them back with me as fighters."
On the Jewish student group, Hillel: "I hope they all trip down the stairs and break their necks."
Speaking of the State Department-designated terrorist group, Popular Front for the Liberation of Palestine (PFLP): "I've stayed at the home of a branch commander and had dinner with his family. I've also participated in marches and gone to lunch with armed fighters. Guess that makes me a huge terrorist and you should be afraid, because I know where you live."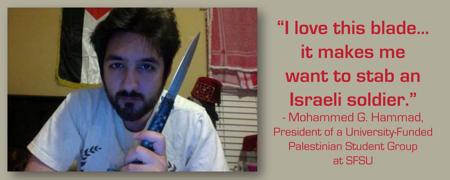 SUCCESSFUL RESULT: STUDENT IS NO LONGER ENROLLED AT SFSU, NOR LIVING ON CAMPUS, AND IS BEING INVESTIGATED BY THE FBI AND THE JOINT-TERRORISM TASK FORCE
1. SFSU-Funded Student Group (General Union of Palestine Students) Event Calls on the Murder of Jews in Stencils Used 
INCIDENT:

 On November 7th, the General Union of Palestine Students at San Francisco State University hosted an all-day celebration commemorating the 6th anniversary of the Edward Said mural. As part of the day's programming, there were tables set up in for art projects. On the tables were cans of spray paint and stencils. One stencil was an image of the Palestinian terrorist Leila Khaled. Another stencil bore the words, "MY HEROES HAVE ALWAYS KILLED COLONIZERS," and in the context of the days events honoring Edward Said, was clearly a reference to the killing of Jews. The stencils were used to make signs carried by students in the plaza. The GUPS event received several thousand dollars of funding from the university and was co-sponsored by the Arab and Muslim Ethnicities Initiative (AMED) in the College of Ethnic Studies.