[ezcol_1fifth]
.[/ezcol_1fifth]
[ezcol_3fifth]

AMCHA Presents Survey of UC Jewish Students Revealing that more than 70% have Witnessed or Experienced Antisemitism
AMCHA is joined by other organizations including Hillel & Jewish Federation and dozens of Jewish students in testifying in front of UC Regents Working Group
---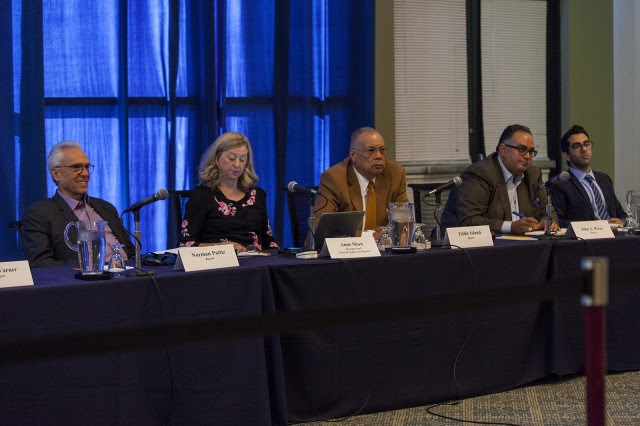 AMCHA Presents Results of Jewish Student Survey
to UC Regents Working Group During Public Forum
"[As a result of BDS] I don't feel comfortable showing my faith anymore. Simple as that." – UC Davis Jewish Student
As part of the public forum held by the UC Regents Working Group on Intolerance, on Monday of this week, AMCHA Director Tammi Rossman-Benjamin presented the results of an on-line survey of UC Jewish students, which focused on their experiences of antisemitism, the impact of BDS on campus climate and whether campus administrators were sensitive to Jewish concerns. Of the 229 Jewish UC students who completed the survey:

More than 70% reported witnessing or experiencing blatant antisemitism, including antisemitic graffiti, threats and physical assaults, damaging of property and heckling;
More than 60% reported that BDS activity promotes hostile actions towards Jewish students;
More than one-third of the students felt that campus administrators were not sensitive to Jewish concerns.
In addition, students shared dozens of comments describing antisemitic incidents and the harmful impact of BDS on campus climate, including:
When in a SUA meeting for a bill supporting Israel the members of sjp for a short while were shouting things like down with Israel, but also someone chimed in down with Jews. (UC Santa Cruz)
…one of my friends wearing a yarmulke walking into the library had a member of sjp wearing a border patrol uniform say Hitler was right. (UC Santa Cruz)
My friend was out at night and a student from SJP called her demeaning names and spat at her. (UC San Diego)
Any time a BDS activity occurs on campus, the amount of swastikas found in libraries has gone up. Also, the amount of anti-Jewish posts…increases. (UC Irvine)
I'm in a Jewish interest sorority and during divestment we're encouraged not to wear letters… (UC Davis)
[D]uring BDS I actually avoid Hillel, the quad, and even my sorority because I just really don't want to have to deal with how unsafe campus feels during that time. (UC Davis)
They have also protested in front of the Chabad rabbi for UCSC's house around the high holidays this past year. Our rabbi has never been outspoken on campus about his pro-Israel views other than possibly attending some events, it was clearly an anti-semitic act and not one of just being anti-Israel. (UC Santa Cruz)
A summary of the AMCHA survey results can be found HERE
The Regents Working Group on Intolerance was formed in September after thousands of students, faculty, parents, alumni, rabbis, advocacy groups and concerned citizens drew attention to antisemitism on UC campuses, and the need for the adoption of the U.S. State Department definition as a tool for identifying and addressing the problem.
---
AMCHA Thanks Partner Organizations and over a Dozen Jewish Students at Public Forum and Also Commends Hillel & LA Jewish Federation for Speaking Out Against Anti-Jewish Bigotry
In addition to representatives from a number of AMCHA's partner organizations, including Simon Wiesenthal Center, StandWithUs, Zionist Organization of America, Israeli-American Council, Hasbara Fellowships and Christians United for Israel, who spoke eloquently on the need to adopt the State Department definition of antisemitism, AMCHA commends Rabbi Aaron Lerner, executive director of Hillel at UCLA, and Rabbi Evan Goodman, executive director of Santa Barbara Hillel, for their compelling remarks speaking in favor of UC adopting a definition of antisemitism:
Rabbi Goodman testified that the Regents should "adopt a clear, system-wide definition of anti-Semitism, including some version of the three D's, with explicit policies and procedures that protect Jewish students in the UC System from experiencing a hostile environment."

Rabbi Lerner told the Regents "The reality for Jewish students on campus today is that they are…not protected with the same care as other student groups" and he demanded they "find a way to recognize the link between demonizing the Jewish homeland and demonizing Jewish students on campus."
Additionally, we commend Daniel Gold, Vice President of Israel Education & Advocacy of the Jewish Federation of Greater Los Angeles, for his compelling remarks urging the UC Regents to address the serious problem of antisemitism on its campuses.
This was an important show of communal unity on behalf of the safety and well-being of Jewish students at the University of California!

---
---
ARTICLES ABOUT OUR EFFORTS:
Jewish Journal – 10/28/15 –
UC holds forum on statement against intolerance
Daily Nexus- 10/28/15 –
UC Regents Discuss, Define Anti-Semitism
Los Angeles Times – 10/26/15 –
UC panel hears competing claims about anti-bias rules and free speech
Orange County Register – 10/26/15 –
Passionate debate over UC's intolerance policy
Hillel International – 10/26/15 –
How do you solve a problem like anti-Semitism? You define it
CBS Local San Francisco – 10/26/15 –
University Of California Intolerance Policy Stirs Free-Speech Fight
The Jewish Press – 10/26/15 –
Survey: More than 70% Of UC Jews Touched by Anti-Semitism
See a full list of articles HERE
---
[frame]

If you haven't already done so, please join our Alumni Network!

Thank you for taking action to protect Jewish students!
[/frame]
Warm regards,
AMCHA Initiative
[/ezcol_3fifth]
[ezcol_1fifth_end].[/ezcol_1fifth_end]