[ezcol_1fifth]
.[/ezcol_1fifth]
[ezcol_3fifth]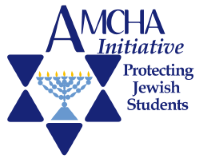 AMCHA CO-FOUNDER PUBLISHES OP-ED LINKING BDS AND NAZI GERMANY ON YOM HASHOAH
Dear Friends and Supporters:
We wanted to share this important piece published in the Algemeiner with you, as we remember today the 6 million Jews who were murdered in the Shoah.
BDS Movement Echoes Germany in the 1930s
April 28, 2014

Tammi Rossman-Benjamin
In the 1930s, thousands of Jewish professors were kicked out of German universities because they were Jews. Shamefully, today in the U.S., Jewish professors are threatened with being thrown out of scholarly conferences, prevented from publishing in scholarly journals, and denied research or employment opportunities, simply because they are citizens of the Jewish State.
In the U.S., more than 1,000 scholars on more than 300 college and university campuses across the country have endorsed an academic boycott of Israel.
Make no mistake about it, the anti-Israel Boycott, Divestment, and Sanctions (BDS) campaign is pure anti-Semitism masquerading in the cloak of academic legitimacy. It was established in response to a call by Palestinian organizations, including terrorist organizations Hamas and the Popular Front for the Liberation of Palestine, to facilitate the elimination of Israel. Omar Barghouti, founder of the Palestinian Campaign for the Academic and Cultural Boycott of Israel, has publicly described his desire to "euthanize" the "Zionist project."
Even though the American Studies Association's recent adoption of a resolution boycotting Israeli universities and scholars has been subjected to scathing criticism by several prominent academic associations – including more than 250 university presidents, hundreds of state and Federal legislators, and virtually every mainstream Jewish organization – too many professors continue to promote the boycott of Israeli professors, advance lies and distortions about Israel, and advocate the elimination of the Jewish state.
Faculty members' unbridled use of the university for promoting the boycott of Israel has had dangerous consequences.
Corruption of the academic mission of the university: The political nature of the campaign to promote a boycott of Israel damages the educational endeavor that is at the heart of a university. When the focus of a professor or department is political advocacy, the quality of teaching and research is severely compromised. One-sided partisan teaching limits the access of students to vital information and violates their fundamental right to be educated, not indoctrinated.
Creation of a hostile environment for Jewish students: Professors who use their official positions and resources to promote campaigns to harm or dismantle Israel and who encourage students to do the same, contribute to the creation of a hostile and threatening environment for many Jewish students, who report feeling emotionally and intellectually harassed and intimidated by their professors and isolated from their fellow students.
Since no other racial, ethnic, or religious group has been subjected by faculty to such pervasive harassment and intimidation, Jewish students experience this flagrant double standard as a kind of institutional discrimination that is anti-Semitic in effect if not in intent. Unfortunately, Jewish students who feel emotionally or intellectually threatened as a result of their professor's anti-Israel advocacy are often afraid to come forward and confront the professor or to complain to an administrator, because they are concerned about potential retaliation.
Giving academic legitimacy to global campaigns to harm Israel: American colleges have become a critical front in the war being waged against the Jewish state. The language and imagery used to demonize Israel and portray it as worthy of destruction, as well as the BDS campaigns intended to be the first steps towards that end, are the main weapons of this war. They have caused significant harm to Israel's reputation. Moreover, when anti-Semitic tropes and campaigns are promoted by faculty, a cloak of academic legitimacy attaches to them, considerably enhancing their ability to flourish on campus and contributing to the growth of global anti-Semitism.
What can be done?
The problem is a serious one and worsens with each campus-based boycott effort that goes unchallenged. Pressure must be brought from outside of the university.
Public Pressure: Information about faculty members who endorse BDS should be published and circulated widely. Then, students, prospective students, alumni, parents, donors, and taxpayers should express outrage at the university's collusion with an anti-Semitic campaign. Potential loss of student or donor revenue and the erosion of goodwill of the taxpaying public will send a compelling message to university administrators.
Legal Pressure: When the behavior violates state or Federal law, legal action may prove effective.
Legislative Pressure: Virtually all universities are beholden to state and Federal legislators for funding. To date, legislation that would withhold public monies from universities that engage in anti-Israel boycotts has been proposed in five states, as well as in the U.S. Congress. Such legislation could go a long way towards curbing the behavior of academic boycotters.
Boycotts of Israeli universities and scholars are the newest expressions of anti-Semitism. On this year's Holocaust Remembrance Day, we must commit to fight locally, on each and every campus where the anti-Semitic boycott of the Jewish State rears its ugly head.
[/ezcol_3fifth]