[ezcol_1fifth]
.[/ezcol_1fifth]
[ezcol_3fifth]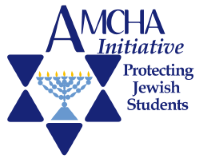 AMCHA co-founder Tammi Rossman-Benjamin honored as one of Algemeiner's "Jewish 100 List 2014 – Top 100 People Positively Influencing Jewish Life" on behalf of her work with AMCHA Initiative

_____
AMCHA Initiative co-founder Tammi Rossman-Benjamin was honored last week as one of Algemeiner's "Jewish 100 List 2014 – Top 100 People Positively Influencing Jewish Life", on behalf of her work with AMCHA Initiative.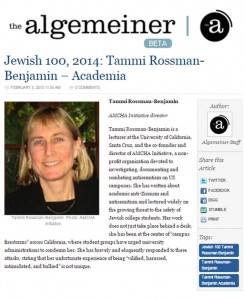 Honored on this list alongside AMCHA co-founder Tammi Rossman-Benjamin were friends and allies including Rabbi Marvin Heir of the Simon Wiesenthal Center, Dumisani Washington of the Institute for Black Solidarity with Israel, and student activist Daniel Mael, along with so many other inspiring individuals positively influencing Jewish life, such as Elie Wiesel, Alan Dershowitz, Steven Spielberg, and Pope Francis I.

You can see the Algemeiner's full "Jewish 100" list HERE.

The awards were announced on February 3 at a Gala Event in New York, which Tammi attended.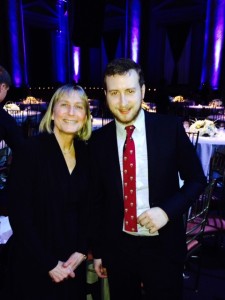 We are proud of this honor, but it would not have been possible without you, our supporters.  Your participation in AMCHA's efforts to combat campus antisemitism has been crucial to our success.

Thank you for helping to protect Jewish & pro-Israel students!
Warm regards,
AMCHA Initiative
[/ezcol_3fifth]
[ezcol_1fifth_end].[/ezcol_1fifth_end]