[ezcol_1fifth]
.[/ezcol_1fifth]
[ezcol_3fifth]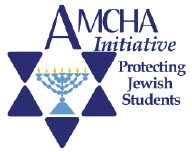 50 Organizations, including the Jewish Federations of North America, Hillel International, ADL and AJC Endorse UC Regents' Report Condemning Anti-Zionism
[maxbutton id="26″]
---
In an extraordinary display of Jewish community support, 50 organizations, including major national Jewish groups, have expressed support for the adoption of the full UC Regents' Working Group Report and Statement of Principles Against Intolerance. The Report contains language regarding anti-Semitism and anti-Zionism such as:
"…opposition to Zionism often is expressed in ways that are not simply statements of disagreement over politics and policy, but also assertions of prejudice and intolerance toward Jewish people and culture. Anti-Semitism, anti-Zionism and other forms of discrimination have no place at the University of California."
If adopted, this will be a huge step forward for Jewish students on UC campuses, and its impact will be felt nationally.
Please JOIN in expressing your support for the Reports inclusion and SIGN THE PETITION today! The vote on the Report is this Wednesday, March 23rd and we are releasing the petition tomorrow. Please sign now.

The following organizations have endorsed the full Report:
Academic Engagement Network
Alpha Epsilon Pi Fraternity (AEPi)
Alums for Campus Fairness
AMCHA Initiative
AMCHA UCLA Alumni
American Association of Jewish Lawyers and Jurists
American Institute for Jewish Research
American Jewish Committee (AJC)
Americans for Peace and Tolerance
Anti-Defamation League (ADL)
Association of Reform Zionists of America (ARZA)
BEAR: Bias Education, Advocacy & Resources
Club Z
Committee for Accuracy in Middle East Reporting in America (CAMERA)
CUFI on Campus
Davis Faculty for Israel
Eagles Wings
Endowment for Middle East Truth (EMET)
Fuel For Truth
Hasbara Fellowships
Hillel International
Institute for Black Solidarity with Israel
Iranian American Jewish Federation
Israel Action Network, Partnership of the Jewish Federations of North America and the Jewish Council for
Public Affairs
Israel Peace Initiative (IPI)
Israeli-American Council (IAC)
Jerusalem U
Jewish Community Relations Council of San Francisco- Peninsula, Marin, Sonoma, Alameda and Contra Costa
Counties
Jewish Federation of Greater Los Angeles
Jewish Federation of Orange County
Jewish Law Students Association at UCLA
Jews Indigenous to the Middle East and North Africa (JIMENA)
Middle East Political and Information Network (MEPIN)
National Conference on Jewish Affairs
Proclaiming Justice to the Nations
Project Genesis
Scholars for Peace in the Middle East
Sigma Alpha Epsilon Pi
Simon Wiesenthal Center
StandWithUs
Stop BDS on Campus
Students and Parents Against Campus Anti-Semitism
Students Supporting Israel at UCLA
The Israel Christian Nexus
The Israel Group
Training and Education About the Middle East (T.E.A.M.)
Zionist Organization of America
Please Sign & Share the PETITION ASAP.
If you are in the Bay Area this Wednesday, March 23rd, and can come to the Regents meeting at UCSF Mission Bay to show your support for the Regents' adoption of the full report, please email administrator@amchainitiative.org for further information.
Thank you very much!
---
[frame]

If you haven't already done so, please join our Alumni Network!

Thank you for taking action to protect Jewish students!
[/frame]
Warm regards,
AMCHA Initiative
[/ezcol_3fifth]
[ezcol_1fifth_end].[/ezcol_1fifth_end]