[ezcol_1fifth]
.[/ezcol_1fifth]
[ezcol_3fifth]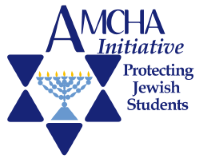 California Faculty Using State Resources to Promote Boycott of Israel

Faculty at both the University of California and California State University are misusing taxpayer dollars to promote the boycott of Israel and other antisemitic propaganda, AMCHA contends.
Last week, AMCHA Initiative went before the California State University Trustees with the news that AMCHA had sent Attorney General Kamala D. Harris a detailed letter alleging new evidence showing that state and federal violations had occurred at California State University Northridge. For more than four years CSUN mathematics professor David Klein has been using the University's website to host his inflammatory Boycott Israel Resource Page, which promotes the boycott of Israel and includes antisemitic material demonizing Israel and its supporters.
A sample of statements on Klein's CSUN-hosted webpage include:
"Israel is the most racist state in the world at this time."
"The result of Israeli state policies has been a 65 year program of ethnic cleansing…and mass murder."
Klein's university webpage also includes graphic photographs of bloodied and mutilated babies, with the clear implication that Israeli soldiers deliberately maim and murder Palestinian children.

"Israel's use of White Phosphorus furthers its agenda of ethnic cleansing"
Professor Klein further pushes for student activism in joining the boycott of Israel on the webpage.
AMCHA Initiative believes that the use of the CSUN server for these purposes violates the following state and federal laws:
CAL. GOV'T CODE 8314: Prohibits any state employee from using public resources for personal benefit.
CAL. EDUC. CODE 89005: Prohibits the use of state-owned name CSUN for the purpose of promoting personal or political activities and propaganda, including boycotts.
50 U.S.C.App. § 2402 (5) and § 2407 (c): Makes it illegal to for a state agency to engage in anti-Israel boycott activities.
You can see AMCHA's letter to California Attorney General Kamala D. Harris HERE.
In our last bulletin we reported that AMCHA Initiative went before the UC Regents regarding faculty and departmental use of state resources to promote antisemitic speech events by Omar Barghouti, founder of the academic boycott of Israel, on three UC campuses – UC Riverside, UCLA, and UC Davis.  At UC Riverside students received course credit for attending. We believe these events violate UC policy and state law prohibiting the university's name and resources from being used for personal or political purposes, including the promotion of a boycott.
TAKE ACTION: In order to garner support to stop the use of tax dollars for the personal political indoctrination of students by faculty members demonizing Israel and its supporters, we need your help.
Please take a moment to sign THIS PETITION to the heads of the CA State Senate and Assembly Education Committee, informing them of the egregious misuse of taxpayer dollars.
After signing, please circulate this petition: SHARE it on Facebook, Tweet about it on Twitter.
Thank you for your support!
[/ezcol_3fifth]
[ezcol_1fifth_end].[/ezcol_1fifth_end]